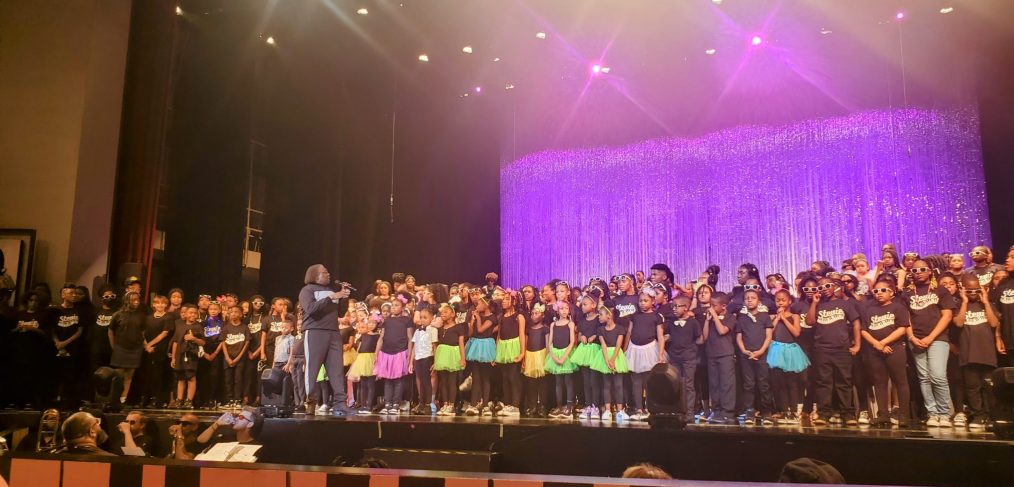 Recently, more than 1,000 parents, students, educators and community members filled the Naomi Bruton Theater for the Arts in downtown Dallas to experience the results of a summer artistic collaboration with The Black Academy of Arts and Letters, Inc, that led to a standing ovation.
Approximately 300 Dallas ISD students—ranging in ages from 10 to 18—participated in "Stevie:The Musical," a co-production between The Black Academy of Arts and Letters, and Dallas ISD that was part of its Summer Youth Arts Institute. 
Team members from Dallas ISD's Extended Learning Opportunities Department were instrumental in making this happen. They partnered with TBAAL and provided the funding for students to participate in the institute. Students who were not from Dallas ISD, either had to pay tuition or received scholarships from private funding to be part of the program.
"Students need to be exposed to the arts," said Merrill Devenshire, director of Extended Learning Opportunities. "Programs such as the TBAAL Summer Youth Arts Institute not only allow students to learn a craft, but engages students and allows them to learn many other valuable skills such as leadership, teamwork, and the importance of physical, mental, and emotional health."
The Summer Youth Arts Institute included theater, music, dance, art, photography, and film. Students rehearsed and worked on the production, both behind the scenes and onstage for three weeks, in preparation to present "Stevie: The Musical," based on the life and music of Stevie Wonder. Performances took place in June. 
The live performances, which included a full orchestra, showcased song and dance performances by students such as "Isn't She Lovely," "Sir Duke," "Ribbon In The Sky," "I Just Called To Say I Love You," "Superstition," "As," and "Don't You Worry 'Bout A Thing," to name of few. 
The performance culminated in a standing ovation from audience members when Curtis King, founder of TBAAL, called all the  students onstage for the curtain call. To catch a glimpse of the show finale, click here.
Numerous famous Dallas ISD graduates have participated in the Summer Youth Arts Institute in years past. Devonshire says among the famous former students are: Erykah Badu; Roy Hargrove; Regina Taylor; Skye Turner, who played young Tina Turner on Broadway and young Aretha Franklin in the Aretha Franklin movie; and Rachel Webb, currently on Broadway in a lead role. 
This partnership between TBAAL and Dallas ISD has existed for 30 years, starting with the Christmas/Kwanzaa concert, Devenshire said. 
For more information on The Summer Youth Institute and other opportunities available through the Extended Learning Opportunities Department, click here.