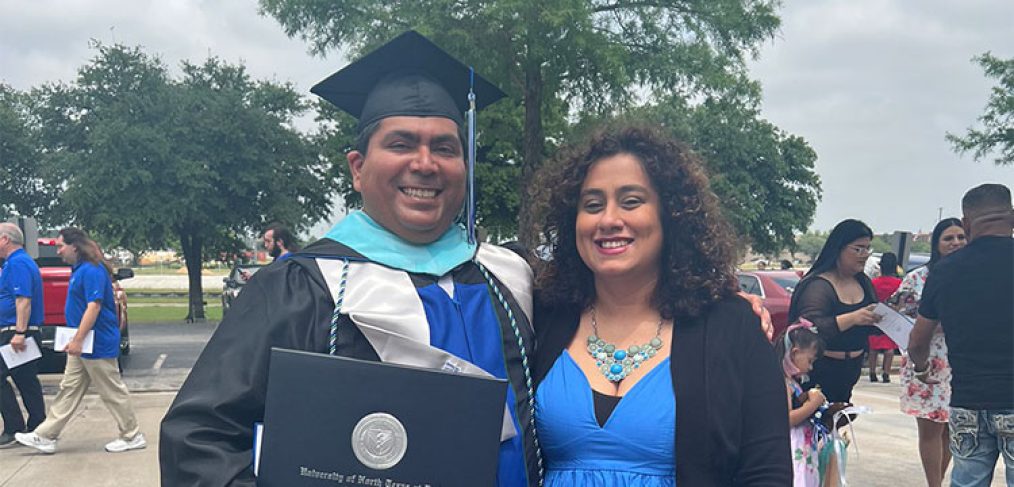 On the path to campus leadership
In Miguel Guerrero's eyes, education is limitless. After 13 years, the bilingual teacher who became an educator through Dallas ISD's Alternative Certification program and has enjoyed his time at John W. Runyon Elementary School, decided to take the next step in his career through the district's Learn to Lead program. 
Through Learn to Lead, Dallas ISD partners with Southern Methodist University, Texas A&M University-Commerce, Texas Tech University, and the University of North Texas at Dallas to provide team members with tuition reimbursement so they can receive their master's degree for less than $8,000 out of pocket. 
Aligned with the district's needs, each university offers tailored curriculum that prepares team members to lead transformational change in Dallas ISD schools. Guerrero first heard about Learn To Lead during a departmental meeting and said he could not wait to get involved. 
He started his program in 2021 and graduated from UNT Dallas this May with a master's degree in educational leadership. 
"I was very happy to reach this point because it was something that had always been in the back of my mind," Guerrero said. "When this opportunity came, I jumped at it, and I was able to get into UNT Dallas. I am very happy and proud to have been able to complete it." 
Juggling his coursework while teaching full-time was difficult, but Guerrero said the challenge paid off. He took two virtual classes each semester to reach the graduation stage in May, coming home from work to have an early dinner and focus on his studies. At every step of the way, he said he received support from the Learn to Lead program with regular check-ins that helped keep him on track.
Moving into the new school year, Guerrero will be working on earning his principal certification so he can apply for campus leadership roles. He said the program has been a great opportunity to achieve his career goals, and now he is encouraging other team members to consider taking advantage of the district resource.  
"I would say go for it," Guerrero said. "Yes, you have to get used to the timing and the workload of it, but go for it because it's worth it. You feel extremely proud of yourself at the end, and the people you meet along the way are incredible. Every one of my professors at UNT Dallas encouraged me to get my doctorate. I had never considered that, but now I want to pursue that as well."
If you are interested in learning more about the Learn to Lead program or any of Dallas ISD's other leadership pipelines, visit https://www.leaddallasisd.org/aspiring-leader-preparation.