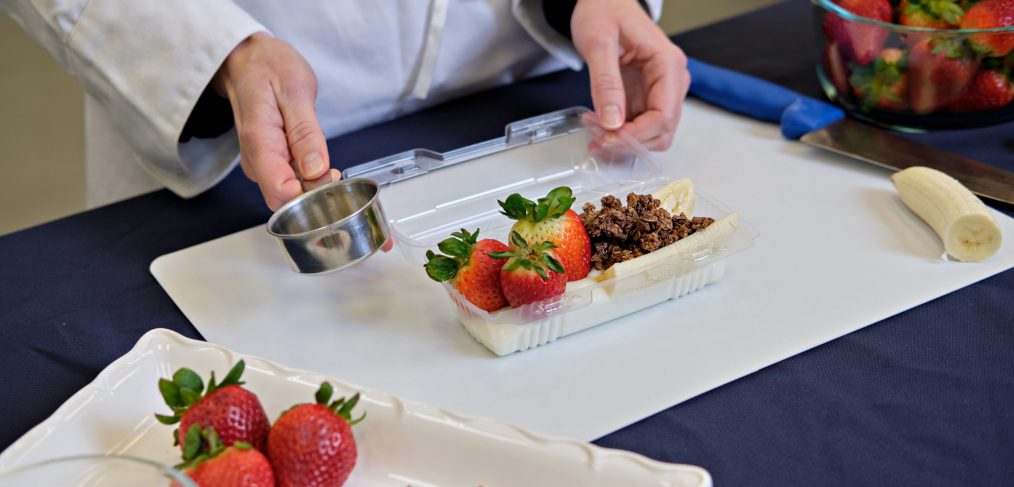 On March 6, as part of the celebrations for National School Breakfast Week, Dallas ISD students and staff will be able to order the Galaxy Parfait during lunch in cafeterias across the district.
Galaxy Parfait—which combines traditional breakfast items into a tasty treat that resembles a banana split—is the brainchild of Betsy Wooldridge, a nutritionist and trained chef who is a menu-planning supervisor in Food and Child Nutrition Services.
"It's beautiful and tasty," she said. "Having bananas in the lunchroom is hard because they brown quickly, that is why this is a special treat."
In addition to bananas, the parfait combines low-fat vanilla yogurt, fresh strawberries, and a new cocoa-covered granola to show that breakfast is good at any time of the day by.
According to the School Nutrition Association, studies have shown that school children who eat breakfast are more likely to:
Reach higher levels of achievement in reading and math
Score higher on standardized tests
Have better concentration and memory
Be more alert and maintain a healthy weight
Currently, Dallas ISD offers breakfast to students in three ways: a lunchroom line, a kiosk strategically placed so students can grab breakfast and go to class, or breakfast that is distributed I the classroom. Food and Child Nutrition Services works with principals to determine what is the best option for their campus.
"Students are just like adults," Wooldridge said. "They get cranky and can't focus when they don't eat. Some students don't get a meal at home in the morning and others haven't eaten since the previous afternoon. Breakfast is important so they can start their day with concentration and energy."
While National School Breakfast Week focuses on the importance of breakfast for school children, Wooldridge believes that everyone benefits from having a nutritious breakfast.
"Basically, when we don't eat for a long time, our body starts to slow down and takes energy from fat and protein sources," she said. "Breakfast gets the body going and gives it the energy it needs to concentrate."
Wooldridge doesn't have a big breakfast herself but makes sure that it's balanced—start with a fruit or vegetable and then add a protein or a whole grain.
"You don't need to make a fruit salad to include fruit in your breakfast," she said. "You can have an apple or a banana. If I have a bar, I check the amount of sugar and sodium. If you are going to have a muffin, also have carrots and a glass of milk."