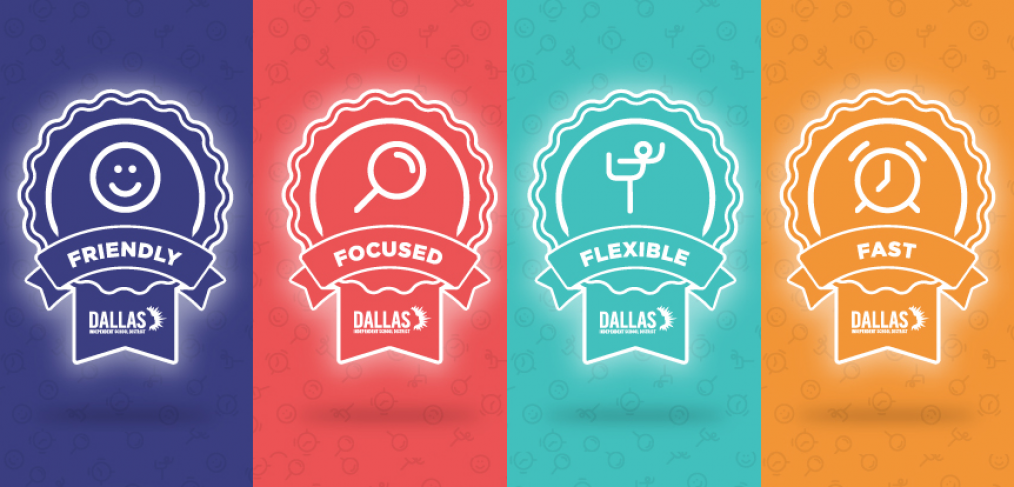 Dallas ISD is committed to building a culture of exemplary customer service throughout the district based on the tenets of Core 4—Focused, Fast, Flexible, and Friendly. Trainings are being conducted at all schools and departments to ensure that all staff are familiar with these tenets that guide the delivery of professional, high-quality service to our customers, whether they are students, parents, community members or colleagues. Have you been to training?
If you have, you will have learned that Core 4 culture tenets are rooted in the district's principles of racial equity and cultural responsiveness, comprehensive accountability, responsible use of resources, and collaboration. The redesigned approach to Core 4 includes a rubric that will easily guide employees in their everyday work to achieve the exemplary level of service that is the culture of Dallas ISD.
The goal of the relaunch of the Core 4 culture tenets is to have every Dallas ISD employee participate in a training to get to know the new rubric and expectations by May 14. Once employees participate in the training conducted by Core 4 ambassadors, they will need to complete an online assessment to help us track participation and gauge the level of understanding of the tenets and the rubric.
If you have questions or need help with a training, contact tuwallace@dallasisd.org.