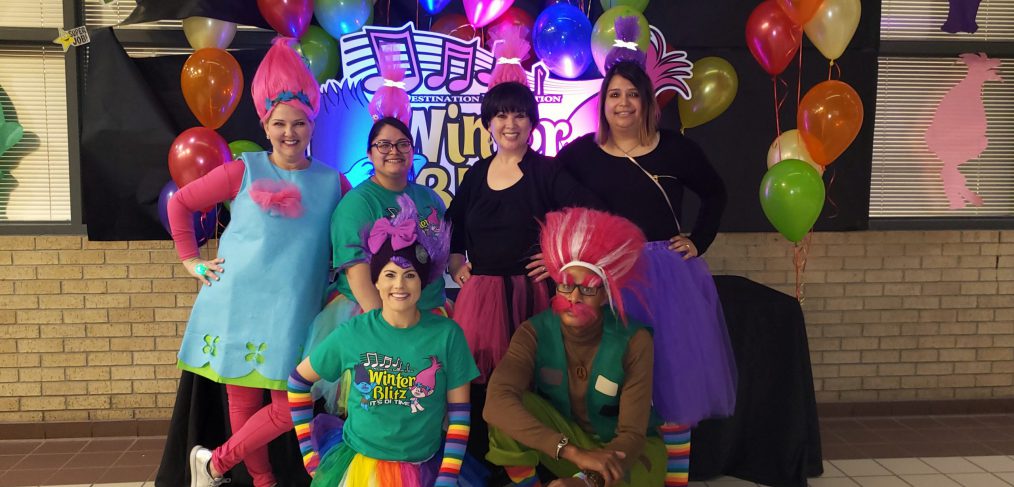 More than 1,700 students from 125 schools embraced their inner trolls to tap into their creative thinking and problem-solving skills for the Student Activities Destination Imagination Winter Blitz Workshop earlier this month.
Students and their sponsors—with the help of the Student Activities staff "trolls"—came together for a day of fun and experimentation in preparation for the regional, state and global competitions. The 215 Dallas ISD teams used everyday materials with imagination, creativity and bold choices to conquer challenges.
The workshop teaches team members to work cooperatively in practice for the competitions, said Angie Nuno, coordinator in Student Activities.
Destination Imagination incorporates creative thinking, hands-on problem solving, the arts, engineering and teamwork in a nurturing environment.
"The Winter Blitz Workshop is always an exciting and fun event for Student Activities," Nuno said. "It provides an opportunity for students to explore their creativity with instant challenges that force them to solve problems using their imagination."
More than 300 teams from Dallas ISD schools are expected to compete at the Dallas Regional Destination Imagination Tournament to be held Feb. 29 at Emmett J. Conrad High School.
"With one of the largest DI programs in Texas, Dallas ISD always has more than 25 teams qualify for the state competition," said Sharla Hudspeth, director of Student Activities. "The DI program has grown tremendously over the years because it motivates our students to seek solutions to life challenges, working together as a team."
Watch a video of the Winter Blitz Workshop.