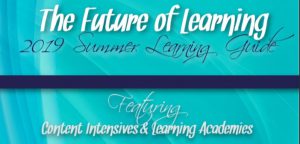 Dallas ISD is turning up the heat on learning opportunities this summer by rolling out a brand new type of professional development experience called Learning Academies.
Teachers will have it made in the shade for the 2019-2020 school year after they attend one of these conference-style learning academies this June. Attendees will hear from nationally-recognized keynote speakers, engage in a wide variety of breakout sessions, explore thought-provoking demonstration areas, and enjoy multiple types of interactive, hands-on learning experiences.
Keitha Shelby of the Dallas ISD Professional and Digital Learning Department called the summer learning opportunities a big upgrade. Next generation learning experiences have been designed for teachers to become content and technology integration ninjas, to collaborate with colleagues to generate new ideas and innovative solutions for universal educational challenges, and to expand their understanding of how to differentiate instruction to create culturally responsive classrooms for students.
"The district is not just looking to support the whole child, we are looking at how we can support the whole teacher," Shelby said.
Learning Academies will be hosted at D. A. Hulcy Middle School, 9339 S. Polk St.  Sessions and accompanying topics are scheduled for:
Whole Child Development (June 10–13)
STEAM & Technology Integration (June 17–20)
Meeting the Needs of All Students (June 24–27)
Teachers view the 2019 Future of Learning Summer Learning Guide Catalog and Summer Professional Learning Agreement at www.dallasisd.org/pdl.