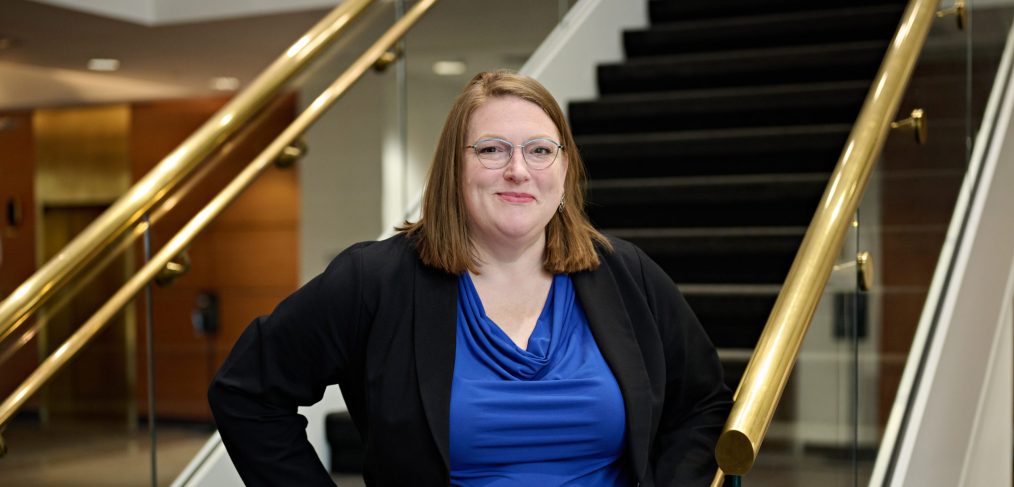 Dallas ISD offers programs that promote girls entering the fields of science, math, and technology, and Rebecca Sanchez, director of IT Business Services for the district, hopes they will empower more and more women to pursue careers in these fields. 
"It's remarkable how it's changing every year, but there needs to be more women in the technical and scientific community, and I love to see it grow," she said. "With the district having programs like STEAM and STEM, it's very encouraging and inspiring to see students interested and hopefully working in these fields in the future."
Her advice for women who want to go into this field is to stay the course.
"Don't let one event, one person or one contract bring you down. Don't let one event define you. Stay focused on your goals and you'll get to where you want to be," Sanchez said.
Sanchez, whose love of math began at an early age, always knew she was going to have a career where she put these talents to work. She attended the University of Mary-Hardin Baylor where she received her bachelor's and master's degrees in business administration.
Sanchez, who's been with Dallas ISD for almost seven years, first came to the district as a comptroller to work on the technology bond program. In her current role as director of business services, she leads a team of 10 who work on a variety of items such as contracts, procurements, E-rate funding, and asset management. 
"My role is facilitating all of the contracting needs of IT," she said. "We are very much like maintenance operations and construction services because we handle several districtwide contracts. We help get devices into the hands of kids and team members." 
Among the many responsibilities her department handles are making sure that applications, such as Oracle and PowerSchool, are renewed in a timely manner. 
"They require a lot of negotiation," she said. "We also maintain different funding streams that pay for these products and services."
 What accomplishment are you proudest of?
For me, it's been building a team that really helps the underlying fabric to make a department a success. I'm proud to have a team that does incredible work building relationships with vendors and internal and external customers. We really try to streamline processes.
What advice or words of encouragement would you give your younger self?
I would tell myself to be sure of your knowledge, and to be sure of yourself. Don't be afraid to ask questions. It's okay not to know everything. I remember that there was a commercial that said that Barbie (the doll) hated math, and I remember as a kid  thinking that it was the opposite of me. I loved math, and even then, I thought it was so horrible to pigeonhole girls to not want to work in that field. I think that it's very important to say that it's okay to like science and math. It's okay to be that person because the world needs more women in these roles. If you think about it, even now there are very few business women in this kind of field and even in IT, but the world is changing, and I'm encouraged that more and more women will take on these roles. 
What helps you persevere during challenging moments?
Deep breaths, stepping away for a minute, coming back and evaluating the challenge helps. Looking at it from a different view and relying on competent and knowledgeable staff to work together as a team to achieve whatever we need to get done in a timely manner is important.
During challenging times, humor is also one of the things that helps me. I have a calendar that says "You had one job" and it helps because I jokingly tell myself "you're doing good. You didn't paint the wrong stripe on a road." They say if you don't laugh, you'll cry, so why not try laughter? Laughter is good medicine. It can help you regain focus. 
What drew you to the education field?
My initial job with the district, as comptroller, got my foot in the door and it felt like it was made for me. I love helping to achieve a common goal. I love that education opens the door to that realm in a different way possible. It is in the public sector but it's its own niche. Every day I am learning something new. 
I love that ultimately the goal is to help students become adults, to be able to do amazing things. It's really encouraging to be even on the ground floor, where through my department, I'm making sure they have a Google or Microsoft product on their computer. I was a part of that process to make sure that it got done timely enough to where that student can learn how to do something on Google Sheets, or Microsoft Excel, or any product they used or things like a teacher using their time clock. It's amazing how doing this one little thing can impact so many people. When you step back and look at it, it's very fulfilling because you see the direct impact.
What is your favorite memory at Dallas ISD?
I have so many great memories, but they all merge into the fact that I love the relationships that I've built, and the positive cohesiveness that we've built. It's great to see all the different people that have progressed in the district. They're not where they were when I first met them, but we are still able to work together and help each other out and bounce questions off each other. Through these relationships, we're still able to help each other, and cultivate even better memories.