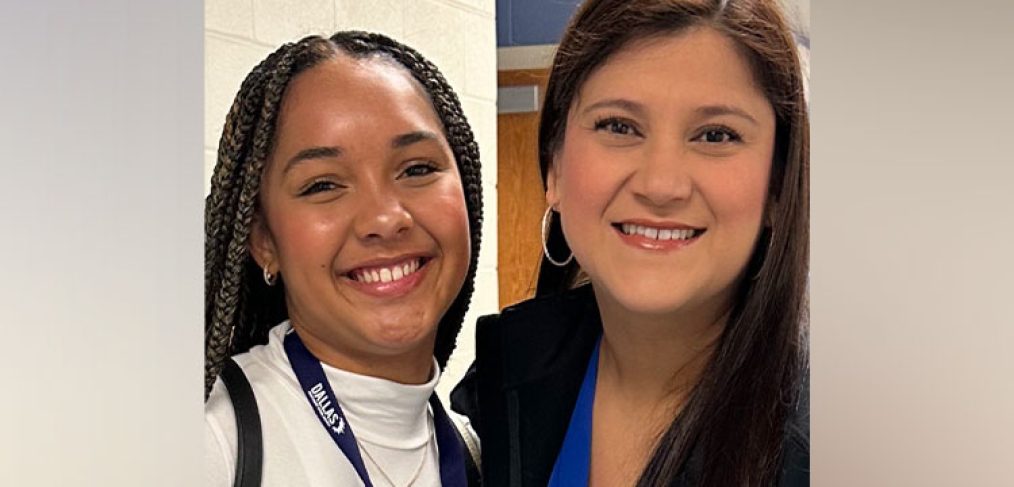 This Is Home: Dallas ISD grad finds her calling in the classroom
Jaedan Freeman couldn't wait to be in the classroom teaching. The proud graduate of Dallas ISD is an upcoming college junior who has spent recent months making memorable moments with students in various classrooms as a substitute teacher. 
Freeman plans to continue working as a substitute in Dallas ISD as she pursues a degree in physical education with a goal of becoming a PE coach and a health teacher.
"It would be pretty cool to go back to my roots where I graduated," Freeman said. "I would love to work at my old high school or middle school because I think those environments are where I'm meant to be. So I definitely want to stay in Dallas ISD."
Freeman said her drive to become an educator started with her own family. Her mother is a teacher at W.H. Adamson High School, which Freeman attended, while her grandfather was a teacher at Seagoville Middle School. Both her mother and her grandfather supported her journey through school academically and athletically as her softball and volleyball coaches. 
"I wanted their legacy," Freeman said. "I really think I was meant to be a teacher and a coach just like them, so that's what is driving me to get my degree in teaching so I can follow in their footsteps."
Her Dallas ISD connections do not stop there. Freeman recently crossed paths with her former principal at Adamson, now Executive Director Diana Nuñez, while Freeman was subbing at Seagoville Middle School. 
"She was always very focused on everybody's success at Adamson," Freeman said. "So when I ran into her after these couple of years, it was really nice to see how excited she was that this is the direction I'm taking, especially being a student. That was great because we have a really good, connected relationship thanks to how much she wants me to be successful in life."
Freeman said being a substitute teacher has given her a new perspective on education. She has experienced the importance of building strong connections with students and has had ups and downs, but at the end of the day, each one has motivated her to continue on her path.
"I know it's not always going to be good days," Freeman said. "I'm going to have bad days sometimes, but that just drives me to stay strong and be here to help the kids who need help and to fill the positions that need to be filled."