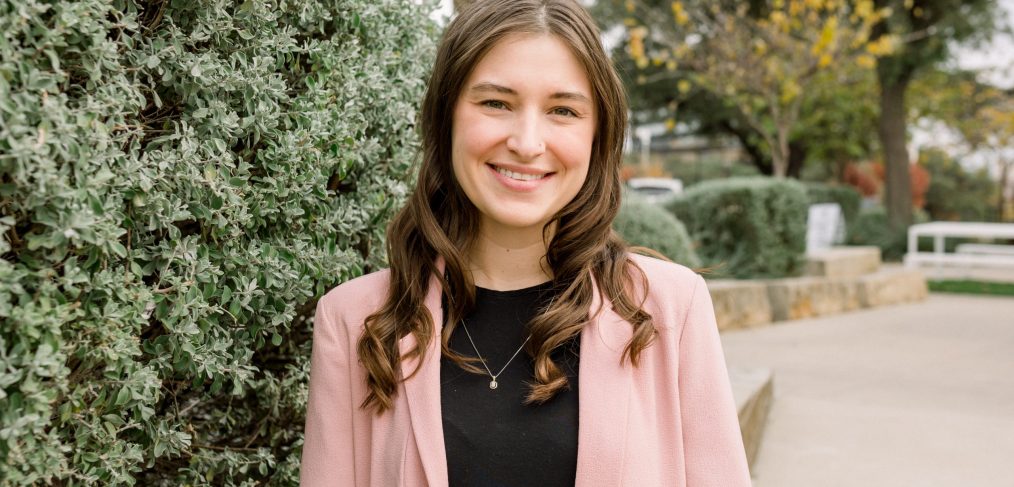 Core 4 Spotlight: Flexibility is the key for educator at Conrad
The Core 4 tenet of Flexible—We strive for the yes—is a necessity when it comes to working directly with students in the classroom. This is something Abigail Rufer, an instructional coach and lead teacher in the areas of English as a Second Language and algebra at Emmett J. Conrad High School, exemplifies. 
Rufer says that working with a diverse group of students at Conrad is always going to allow her to be flexible in her teaching due to the different backgrounds her students may come from. 
At Conrad, there are at least 30 languages spoken and 50 different countries represented among the student population, according to Rufer. 
"You never know what the students' math conceptual background comes from in their home country, or if they went to school in their home country," said Rufer. "Some kids come with no education, and some come highly schooled, and just need language support."
Rufer believes that it is crucial that every time she interacts with her students she is flexible in teaching them in the way they learn best. 
"Meeting every kid where they are at is important to getting the buy-in and motivation that they need for them to grow," she said. 
Rufer, who has worked for the district for the last seven years, was named the 2021-2022 campus Teacher of the Year. 
From the time she was a sociology and psychology student in her undergraduate college years, she knew she wanted to work with kids, but she didn't know in what capacity. She went the alternative certification route after graduating with her Bachelor of Arts degree and has been at Conrad ever since. One of her favorite things about teaching is having the opportunity to teach kids from different countries. 
"I think it's important for me to invest not only in my students but [also] in their families and community," said Rufer. "I think that helps build the ties with our kids and helps them stay invested in the education system."
Rufer also believes that as a teacher, it helps her stay more connected with her students. Even though there are challenges in communicating with students at times, due to language barriers, she finds ways to build a sense of trust and communication.
For example, this past school year, the school hosted a night specifically for students and families from Afghanistan, as there was a bigger population of students from this country this past school year.  
"Inviting our families to build community and to be a part of the kids' educational process, really helps the investment from both sides. It goes miles in overcoming some of those obstacles," Rufer said. 
One of the things that Rufer likes the most about her role is seeing her students' reactions and how much confidence they gain in themselves when they are successful. 
On the instructional coaching side, Rufer says it's also important for her to see that with the teachers she coaches, an equal part of her job.
Rufer says there's a broad misconception that students from different countries who speak a different language should not be held to a high expectation, but that is not her belief.   
"Having those moments with my kids where they are not only hitting the expectations, but they are surpassing our students that already speak English, is special to see," she said. "That builds a sense of confidence in themselves."