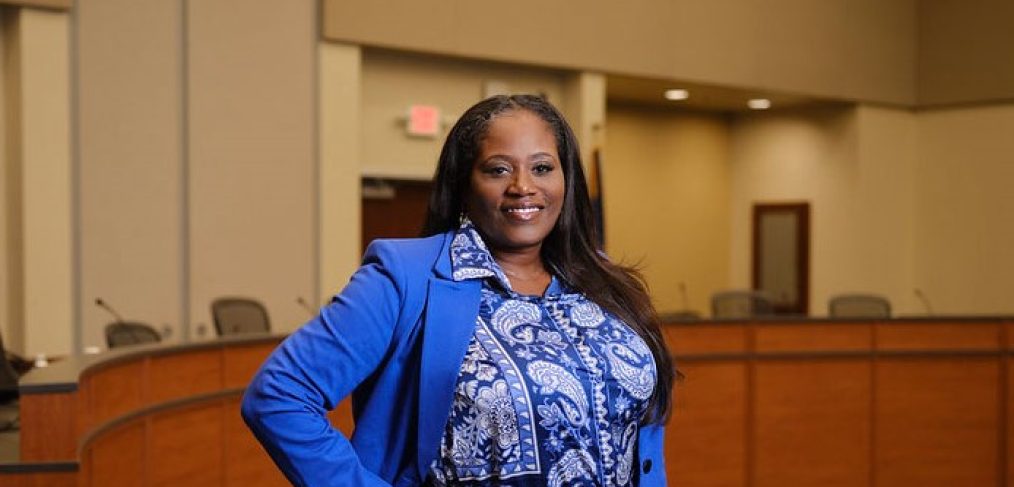 At Dallas ISD, all-stars work among us, sometimes literally. Shantell Grant, the executive director of Board Services, is one of them. Grant is a familiar face during school board meetings, but her legacy and her contributions to Dallas ISD began when she was a student.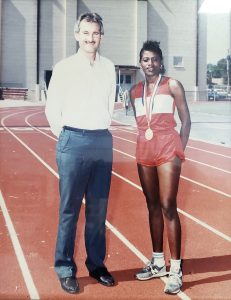 Grant, who started working for the district in 2006, was a track and field star for David W. Carter High School. As a student, she advanced and won state in the long and triple jump categories and in team relays. She was also a 200-meter sprinter and went to regionals in that category. Working for Board Services gives her a different opportunity to help Dallas ISD shine.
"I remember being recognized at the board meetings as a high schooler for going to state and winning,"  Grant said. "That memory was kind of distant until I began to work in Board Services. It's certainly one of the reasons why I love working with Board Services, which is when we get an opportunity to highlight our students. When they go to board meetings to get recognized for their achievements, it's a big deal, because I still have that lasting memory for myself." 
As a Dallas native, Grant's long history with the district began when she attended Mount Auburn Elementary School, W.H. Atwell Middle School and David W. Carter High School. Upon graduation, Grant was awarded an athletic scholarship to The University of Texas at Austin. 
Grant returned to Dallas ISD nearly 17 years ago, to work in the Compensation Department. She had only been with the department for six months when she received a phone call that would change the trajectory of her career. 
"I received a call from the superintendent's office, and I had only recently started working for the district, so I was really surprised," said Grant. 
Grant was offered the opportunity to work as an administrative assistant under the administration of then superintendent Michael Hinojosa's team. She ended up working there for a total of five and a half years. When Grant expressed interest growing her leadership skills, district leaders supported her. She applied for a move to Board Services, where Deno Harris, who is now deputy chief of Operations, hired and mentored her. 
The team she worked in before is the team she now manages, Grant said. She says most of her team has 20 plus years of experience working in the district. 
"To come back and manage them is a privilege and an honor because everything I know about Board Services I learned from Deno, but also from working with these amazing ladies. I feel privileged to have that kind of experience on the team," she said.  
In 2016, Grant had the opportunity to move back to the superintendent's office as the special assistant to the deputy superintendent. 
"During the entirety of my tenure, I've had the chance to work for some phenomenal leaders," Grant said. "They saw something in me and said, 'You can do this.' And for that, I am extremely privileged and honored to be in the position I am today."
She acknowledges that had it not been for her mentors and leaders pushing her toward reaching her full potential, she might still have been in her previous positions because she's enjoyed every role she's served in.
Grant left the district for a year and a half to work in Houston as the director of Board Services, and returned to Dallas ISD in November 2018, as a project manager in Human Capital Management. In  September 2020, the opportunity to become executive director of Board Services opened up, and she jumped at the chance. 
Grant was so overcome with emotion when she learned she had the job that she pulled over to process this important moment.
"I was in tears when I got the call," she said. "It's not a call you get every day, and to have that trust and confidence in me was astounding."
She was happy to work with the same faces she had grown with when she initially worked for Board Services. 
"They welcomed me back with open arms. I just appreciate Board Services and the support they give me, and I try to support them in any way that I can. They are the experts, and I just try to remove the hurdles that they have, so they can get the work done," she said. 
Grant loves her job and working with her team and recognizes that it's a high service position as the stakeholders include the superintendent, trustees, chiefs, constituents and anyone who may enter a board document for approval. They also work with external stakeholders, such as city council and other elected officials, when assisting trustees and school officials with district business. 
No matter where her career journey has taken her in Dallas ISD, Grant has always kept the reason for her services front and center: the students. 
"The message is that no matter what position you're in, we're here for children," she said. "We're in a job of making sure our kids get the best education. We all impact the accessibility and the opportunities for their education and support the needs of all our students. We must always keep our focus on the kids."