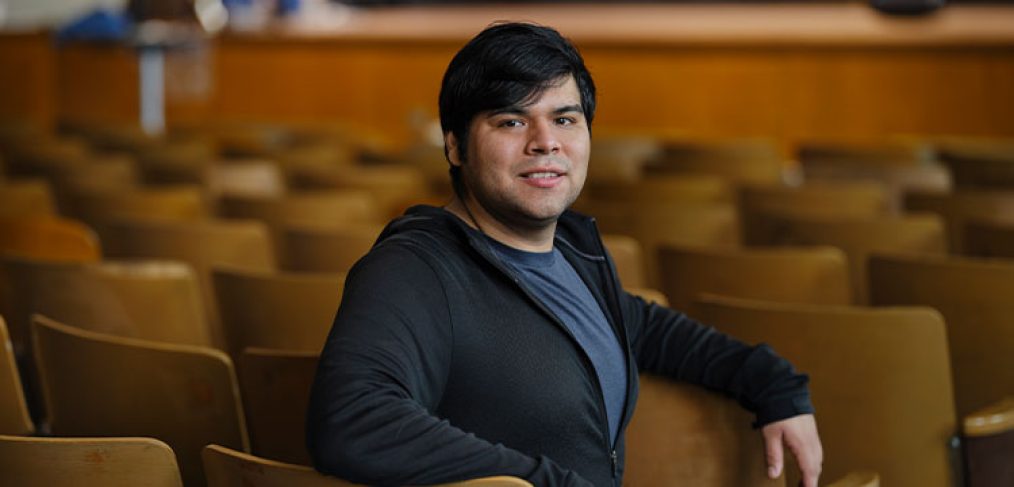 Theater teacher finds his calling in the classroom
When Adam Garcia attended a Dallas ISD job fair last year, he didn't know the path he was about to take would not only transform his life but also the lives of dozens of students. 
"It all happened so fast," said Garcia, now a theater teacher at Young Men's Leadership Academy at Fred F. Florence Middle School. "It just seemed like it was meant to be. All the chips lined up. I had just literally gotten off a plane from Florida, where I was previously working [in the theater industry], but for whatever reason, I had the strength to go straight from the airport to the job fair." 
The job fair was a turning point in Garcia's life because that's where he met Maria Puentemejia, principal at YMLA at Florence, who mentioned to him that they were looking for a theater teacher. Garcia told her that he had grown up in the community and saw it as an opportunity to give back to the area that raised him and gave him his roots. 
"At the end of my internship with The Naples Players, I realized that there was a lot going on with the theater industry," he said of his decision to become an educator. "In order for me to make the change and the impact that I wanted to see in the theater industry, I had to start from the very beginning, and that's in the schools." 
Having grown up in southeast Dallas, teaching at YMLA at Florence has brought Garcia full circle. He is proud to say that he's a product of Dallas ISD—having attended Annie Webb Blanton Elementary School and John B. Hood Middle School (now Piedmont Global Academy) and eventually graduating from nearby Bryan Adams High School. 
It was while Garcia was at Bryan Adams High School that he discovered his passion for theater. 
"It was the first time I was exposed to theater," he said. "I knew I needed a fine arts credit and choir wasn't quite cutting it for me anymore. So I ended up joining theater and I honestly ended up falling in love with it on the technical side." 
Technical theater, which includes anything from stage managing, lighting, sounds, set design, costumes, etc., is Garcia's forte. Nevertheless, he makes sure his students learn all aspects of theater onstage and behind the scenes. 
"When I was in school, I wished I would have had this creative outlet because I liked to move around and I loved the energy of it all. I know there's a lot of kids here that like to get up and work onstage and backstage," Garcia said. 
Garcia says that his students are able to identify with him for different reasons. 
"My strongest connection with them is because I know what they're going through. I'm not an outsider. I'm an insider who came back to show that there is more outside this circle, and that anything is possible," Garcia said.   
When the students pointed out that there were very few, if any, people of color in the theater videos that were part of the curriculum, Garcia knew he had to make some changes. 
"I had to really sit there and readjust my entire curriculum because they couldn't see themselves in what I tried to show them," Garcia said. Last fall, he had them create their own plays, where they were the writers, directors and designers. With Garcia's guidance, the students directed and produced their own plays. 
Students took on classic tales and, with limited resources, produced them. 
"Some kids, for example, did a Little Red Riding Hood story and instead of the traditional story, it was Luke Skywalker and Darth Vader," said Garcia. "What they were able to accomplish onstage with literally tables and chairs and what they had was just genuinely impressive." 
Currently, Garcia and his students are preparing for their spring production of a play that Garcia wrote called "Los Hijos de La Llorona." The idea came about after one of the students jokingly said they should do a story about La Llorona, a popular figure found in Mexican folk tales. 
"It's a story they are all familiar with," he said. "I did it in English, and, depending on how I cast it, I would love to consider doing it in Spanish. The script is very Spanish-language influenced." 
In order to truly teach students about the different equipment that is needed in a professional production, Garcia recently raised funds through Donors Choose to get a new headset system, wireless system, and more light fixtures. 
His dream of transforming student lives as a teacher is already coming to fruition, he said. He has seen once shy and reserved kids become leaders. They are directing, writing, stage managing, and taking on other tasks. 
"Now they are comfortable and they're not scared anymore to be in this space," Garcia said. "They feel they can be themselves there. They are getting more creative with their projects and more intricate with their designs. Now they're actively listening to each other and working collectively as a team, which I think is amazing."