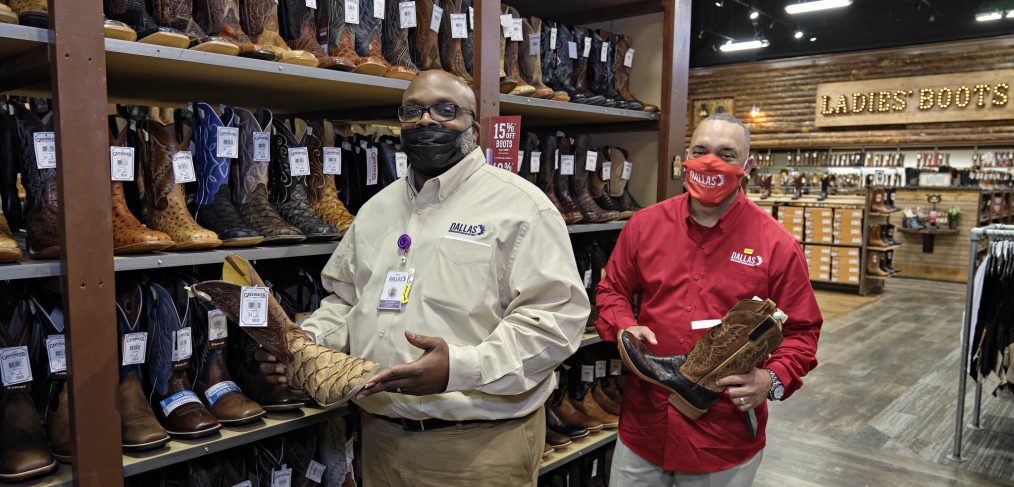 Hard work is recognized
Several Dallas ISD Maintenance and Facilities supervisors who worked during the recent winter storms to maintain and repair schools were recognized today for their efforts. Over 140 Dallas ISD schools were damaged due to record freezing temperatures, including flooding due to burst pipes.
While the nearly 1,600 employees in the Maintenance and Facility Services department will be recognized at a future date, Wednesday 35 essential team members were highlighted for working day and night for no additional compensation. Thanks to a donation made by Atmos to the Dallas Education Foundation, each of the team members received a gift card to buy new western boots of apparel at Cavender's Western Wear and Cowboy Boots.
"Our department has seen unprecedented events that could have defined us in the last 24 months, but instead we chose to overcome and define those moments," said David Bates, assistant superintendent of Maintenance and Facilities. "This team has worked through geothermal well malfunctions, rolling outages due to extreme heat, a historic tornado, a pandemic, and most recently, a severe winter storm with electrical outages and water damages due to extreme cold."
Dallas ISD had to act quickly to repair damage to schools to ensure a safe return for the district's students and staff.
SMU Football also showed its appreciation by providing each team member with two tickets to their home opener. SMU Football will be one of the lead partners in the recognition of the entire Maintenance and Facilities department at a future date.