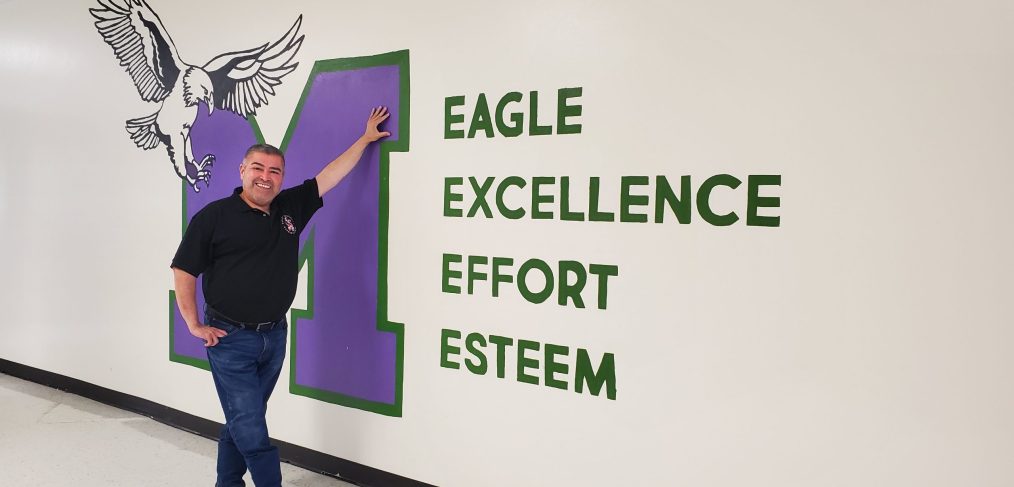 A lifetime dedicated to uplifting students
A familiar and friendly face for students and community members at Francisco "Pancho" Medrano Junior High School is Carlos Rodriguez, an education support professional, who has worked for the district for over three decades. In fact his journey as a Dallas ISD team member began when he was a teenager. 
In recognition of all they do to support learning, team members like Rodriguez, can be celebrated on Nov. 15—Education Support Professionals Day. The day was first celebrated in 1987 by the National Education Association's Representative Assembly to honor the contributions of all school support staff. To learn more, click here. 
Rodriguez began his journey as an education support professional in the district in 1992, a year after graduating from North Dallas High School, when he was offered a job at Ignacio Zaragoza Elementary School. 
Rodriguez, who is currently working in the English as a Second Language Department at Medrano, has shared his talents in the different roles he's played in the district—from building a dance program as a ballet folklorico instructor to strengthening newcomer students' language skills. Through the diverse range of work that Rodriguez has done, he has appreciated every moment and experience and says he is very passionate about what he does. 
"I like for every student to take something in return for the time and effort they put into the class," Rodriguez said. "I want students to have something  to look forward to every day, and that they feel good about what they accomplished, whether it's a small step or a big victory." 
Rodriguez was at Zaragoza for a few years before he became the ballet folklorico instructor at North Dallas, a position he held for approximately eight years. 
After his time at North Dallas, Rodriguez was offered a job at W.T. White High School, where he had the opportunity to not only teach dance but also offer academic support to students, primarily in science. After spending approximately five years at White, Rodriguez moved to Medrano, located in the same neighborhood in Northwest Dallas where he grew up.
At Medrano, where Rodriguez has been since 2008, he has provided educational support to students who receive special services and currently offers support to students who speak languages other than English. Rodriguez, who is originally from Monterrey, Mexico, was once an ESL student and says he understands the  frustrations and challenges that students face. 
He says one of the greatest satisfactions of his job is seeing the growth of his students from the beginning of the school year to the end, as he sees his students grow into their confidence and language skills and are able to better advocate for themselves. 
In the trajectory of his career, Rodriguez has seen his students not only become fluent and confident speakers, but become business owners, start their own dance companies– several of which exist in the Dallas area—and start their own careers and families. Rodriguez says he's honored to have been a part of their journey. 
"Many of my students have evolved and many of them are entrepreneurs, creating their own paths as community leaders," Rodriguez said. "You don't realize how much of an impact you can make in our youths' lives, until they come back and thank you for being there for them. There is no greater reward than that."