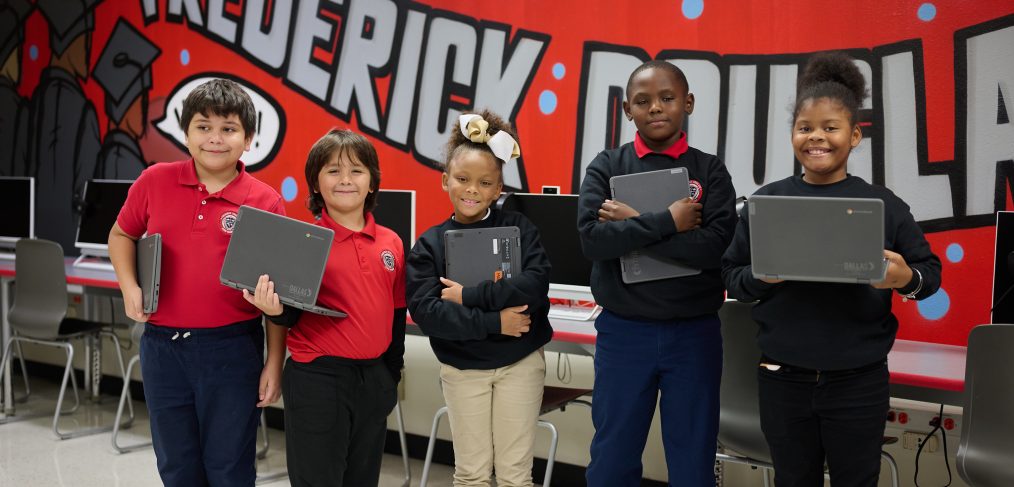 Building for a connected future in education
As the world continues to become more dependent on technology, more and more learning is taking place online. Education is catching up, and Dallas ISD's Educational Technology Department is leading the effort to meet the technological demands of evolving educational opportunities with a new tech hub.
"As we recognized the need to modernize technology at our campuses, we chose Frederick Douglass Elementary School as a technology incubator," said Jon Hurley, assistant superintendent of Technology—Architecture and Operations. The work done at the school will serve as a guide for future technology upgrades in other areas of the district.
As part of the Douglass technology hub, the department provided every student with Chromebooks that include an integrated LTE hotspot that can pick up Wi-Fi network signals without the need of an additional device. The technology team also upgraded the connectivity infrastructure at the school. At the same time, the department is taking advantage of programs available in the community so students can have access to the internet at home to support their learning.
"We are aware of the challenges presented by this transformation," Hurley said. "But the more we get students online, the more learning opportunities they will have. We are focusing on all technological upgrades and infrastructure."
 The recent pandemic exacerbated the need for connectivity for learning, and Dallas ISD was a leader in the state in ensuring students had access to online education. Several programs were implemented during that time to make sure students had access everywhere. Some worked and some didn't, which is why the Douglass tech incubator is so important, Hurley said.
 "It gave us a good idea of what works and what doesn't, so it can be reproduced in other schools," said Marlon Harrison, assistant superintendent of Enterprise  Support Services. "We have a template."
 The department is still in the first phase of the efforts to continue to upgrade technology and access to the internet across the district, and the Douglass tech incubator showcases what can be done at other schools. The goal is that in five to seven years, every student will have a device with 5G LTE connectivity. The district has already invested in 15,000 laptops—like those at the Douglass tech incubator—with eSIM cards, or digital SIM cards, which can be paired with any service provider.
 "This is a long-term plan," Hurley said.
With an eye on equity, Educational Technology is working with other departments and Board of Trustees to enter into long-term contracts that will make the infrastructure upgrades possible, first in areas of greatest need and, eventually, across the district, he said.
The major infrastructure work in the first phases of the project will take place in the next three to four years, at the same time that the district continues to leverage federal technology funds to also upgrade devices for students.
"Eventually, everyone will be on these devices," Hurley said. "The future is mobile, and access to digital learning for our kids is essential. We want them to have every opportunity that's available to be successful."