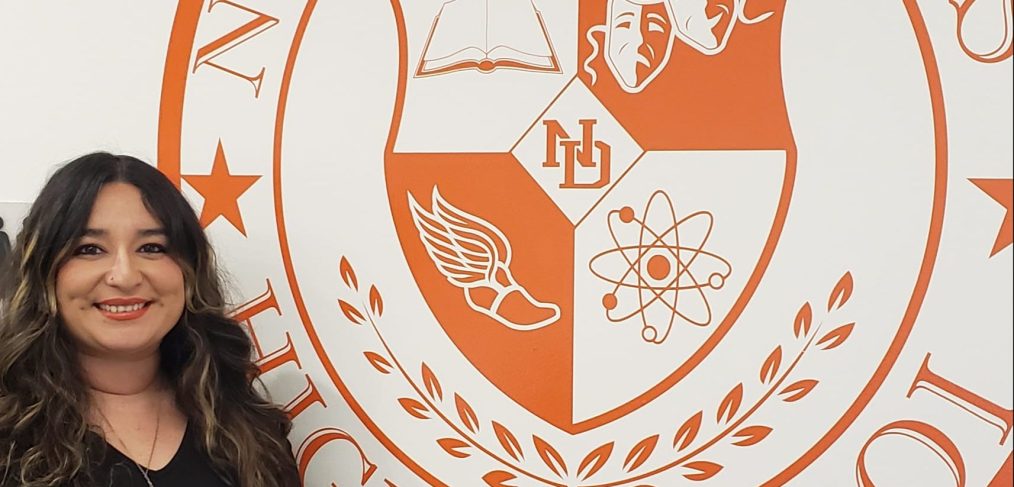 This Is Home: spotlight on parent instructor Jessica De Paz 
On Jessica De Paz's wall it reads, "It's a good day to be a bulldog." And she definitely is one because the parent instructor at North Dallas High School has been walking these halls since she was a toddler.
De Paz comes from a long line of North Dallas graduates, as her mom, dad, stepparents, uncles and aunts, and many other relatives have attended North Dallas—she was a year old when her mother graduated. It was also at North Dallas High School that De Paz met her husband, Rufino De Paz. She even has a younger sister who is currently a junior at the school. 
When De Paz received the opportunity to return to her alma mater for this school year, but this time as a team member, she embraced the opportunity. 
"I love this place. I love this school –this is home," De Paz said. "So, to come full circle now, it just feels right."
Before working at North Dallas, De Paz had been working at Rufus C. Burleson Elementary School where she was the parent instructor for a year, and before that, she worked in a Functional Living Skills classroom at L.L.Hotchkiss Elementary School for two years. She said her current role as a parent instructor means building the bridge between the family, the community, and the school. 
"Parent involvement with student success is not only in their hands, but it's also our responsibility as a school and as a community," De Paz said. "Working collectively ensures that not only do students graduate, but that they have a better sense of what they want to do in life." 
De Paz says she makes sure the families she works with have the tools they need, so they can be better equipped to support student success. She starts by looking for different resources the district and city have to offer, as well as donations from churches and community organizations, and sharing them with families. This could mean anything from helping parents find assistance for rent or mortgage and utilities to getting families free meals, clothes, or free English classes. 
Before working in public education, De Paz worked for seven years at a multicultural advertising agency in downtown Dallas. Her move to public education included a pay cut and a leap of faith—but says she wouldn't trade this experience for the world.
"Dallas is forever changing, and I just don't want our students or our families to be left out. So if I can connect them in any way to make their lives easier, that's way more worthwhile than any paycheck I can get," said De Paz. 
When COVID hit in 2020, and the circumstances at her job changed, she began to think about going into public education. When a colleague reached out to her about a position open at Hotchkiss, Paz saw it as a sign. 
 "It's almost like the universe knew what I needed," De Paz said. "I remember my first day in the classroom and just thinking that this was my calling."
At Hotchkiss, De Paz says she learned a lot about the needs of parents and students, particularly those who are in need of special services. At Burleson, she built the parent program from the ground up and laid the framework for her successor. Although she was only at Burleson for one year, she made a significant impact, winning the Parent Educator of the Year Award presented to her by the Family and Community Engagement Department. She credits leadership and colleagues at both campuses for helping her be successful in her work. 
As far as why De Paz feels passionate about her role as a parent instructor, she says it's the reassurance that the families are going to be okay.
"The mindset that I wake up to every day is to try and make the kids' lives and the parents' lives better than they were yesterday," De Paz said. "I love them so much."
At North Dallas, De Paz works closely with colleagues such as Sherri Cleaver, a social worker at the school, to provide these resources. Working together they combine their expertise and tools to work with families. For De Paz, the trust that families place in her makes them feel like her extended family. 
"It's just a very rewarding feeling making sure they're taken care of," said De Paz. "I celebrate each and every victory with parents, whether it's enrolling them for English classes or getting them a necessary resource for free. This may seem small, but to me and my families, these are huge leaps."