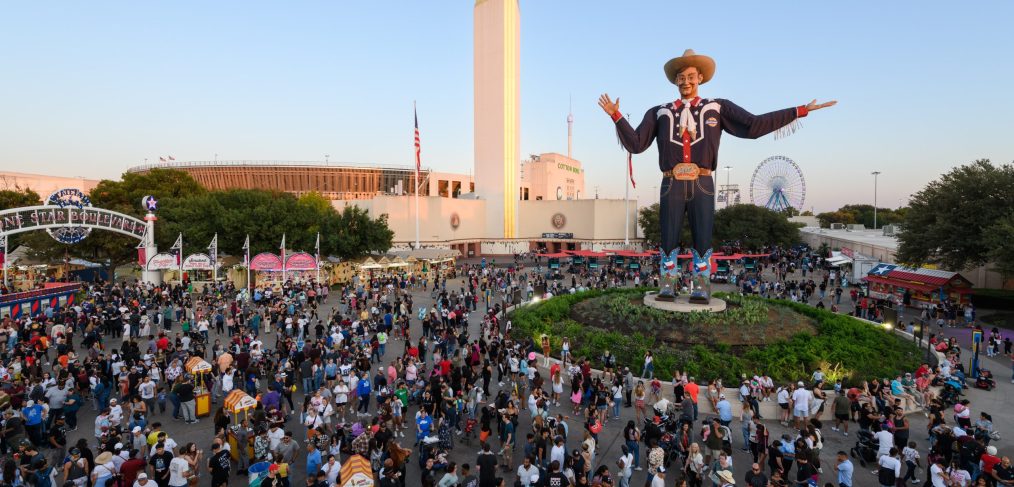 What's good at the State Fair? Food photos and stories
The State Fair of Texas is a fall tradition, and each year team members receive a ticket each to attend the fair for free. We asked Dallas ISD team members to share photos and stories about their favorite foods at The State Fair of Texas this year. 
Teri Kirkley, special education teacher, James Bowie Elementary School: I grew up in Dallas, and have gone to the State Fair on the first day almost every year. My husband and I tried to get the very first corny dogs from the main Fletcher's stand. This year we did it!
Darrell Shaw, lead custodian, J. P. Starks Math, Science, and Technology Vanguard: Fletcher's foot-long corn dogs are his favorite food at the fair.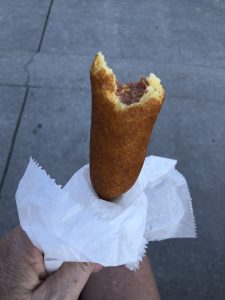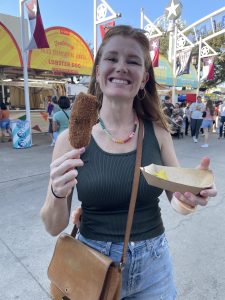 Maria Hoffman, data controller, Ann Richards STEAM Academy: Her favorite food at the fair was vanilla ice cream dipped in chocolate and nuts. 
Brittany Henderson, science teacher, Emmett J. Conrad High School: I did not understand why a state fair was such a big deal until I moved to Dallas. One of my best friends is a food blogger and she knew all the best spots to grab food at the fair and how winners get chosen. She made me try all of the winning items of the year! Now each year, I look forward to seeing what the creative chefs come up with. My favorite so far is the Dilly Dog from 2022.
Veronica Arispe, bilingual teacher, Kleberg Elementary School: Tried the chicharron explosion nachos. I wasn't sure if I was going to like it, but it is really good.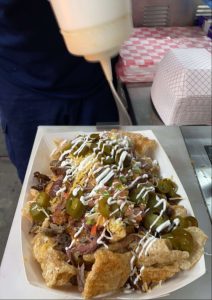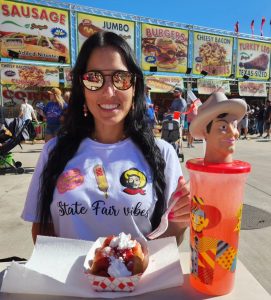 Maria Melian, bilingual teacher, Edwin J. Kiest Elementary School: My favorite food from the State Fair is the strawberry shortcake and the strawberry lemonade. After being on a diet for one year and losing 70 pounds, I just want to eat everything from the Fair!
Heidi Zeko, special education teacher, Victor H. Hexter Elementary School: The fried pho is the best state fair food I have ever eaten!  It's delicious and fried.  It's what Texas State Fair Food is all about! 
Natalie Apellaniz, teacher, C.F. Carr Elementary School: Three years ago was my first time trying the mac and cheese bowl at Mac Loaded. My first year, I tried the brisket loaded mac bowl and wow,  it blew our mind. Last year, their signature bowl was the bayou bowl loaded with shrimp and freshly peeled crab topped with one sausage slice and a breadstick. This year,  the new addition was the butcher block mac topped with crispy fried chicken, brisket, candied bacon, a piece of sausage and jalapeños with extra bbq sauce on top. I'm not a huge fan of so much meat, so I ended up getting the bayou bowl again this year and it did not disappoint. My fiancé did get the butcher block mac and he said it was the best he had. I highly recommend stopping by the Mac Loaded. There is always a line, but it's worth the wait and the money—100%!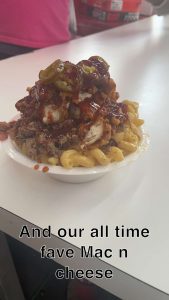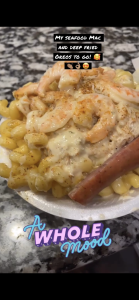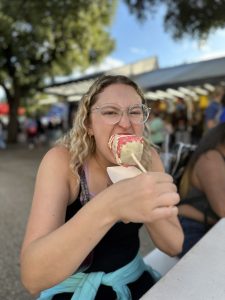 Margaret McGaughey, fine arts teacher, Hillcrest High School: The drizzle's chocolate dipped strawberry cheesecake was so good, I could not hold back from devouring that sweetness on a stick!
Margaret McGaughey, fine arts teacher, Hillcrest High School: The drizzle's chocolate dipped strawberry cheesecake was so good, I could not hold back from devouring that sweetness on a stick!
Vanessa Balderrama Chavira, pre-k bilingual teacher, Julius Dorsey Leadership Academy: The Fried Pho was the best. We were looking for this featured food item almost exclusively. We kept coming across it on reviews and videos. It even won an award, and it did not disappoint. It was the best fried food combination. It preserved the essence of the original dish and got so much better with the batter and crunchy addition. Even my 2-year-old enjoyed it and took big bites of it without hesitation. A score of 10/10 on the flavor, the texture—all of it. We had a great time looking for it and it was gone so fast, but I truly enjoyed it.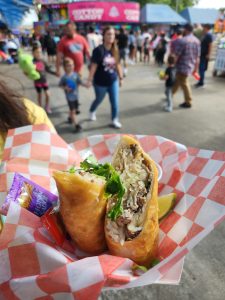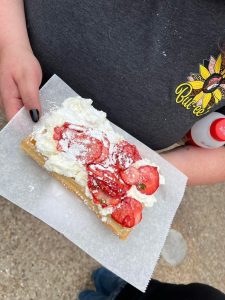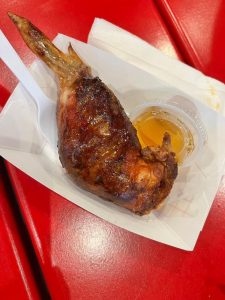 Maggie Garza, lead supervisor, Food and Nutrition Services: It is a family tradition to go with my parents, brother, sister-in-law and nieces and nephews. I loved trying a couple of new things this year including the biscoff delight and stuffed chicken wing. One of the foods that we make sure to get every year (besides Fletcher's corn dogs) is the Belgian waffle. Norman Zable was the founder of the Belgian Waffles at the State Fair in 1964. He passed away in 2020 and practiced law in Dallas for over 60 years. It was beautiful weather and great memories made with the family.

Thank you to everyone for their great stories and photo submissions!