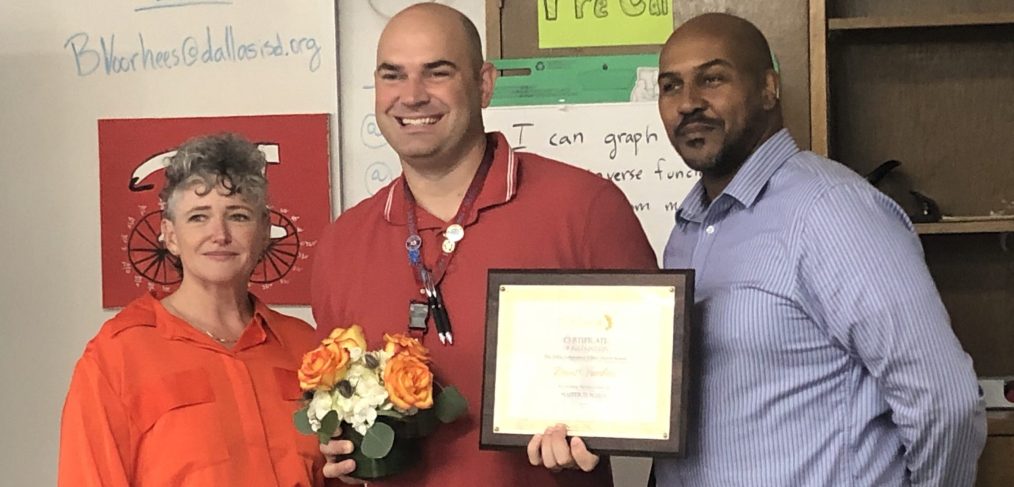 Master Teachers: A series
The Beat has interviewed Master Teachers across the district to share their stories and introspections about their careers, including tips for teaching. Meet Master Teacher Brent Voorhees.
Brent Voorhees, a Master Teacher at Skyline High School, first came to Dallas ISD for the 2013-2014 school year. Originally from Abilene, Texas, he said he has a "competitive nature," and wanted to take on a challenge. With the belief that "kids are kids" and "each will rise to the expectation you set," he decided to test those theories in the classroom. 
Voorhees, who has 26 years in education, said he is glad he followed his personal challenge and has been "thrilled" to work in Dallas the last 11 years and be a part of the upturn in the district. 
"The students have risen to every expectation," as have his colleagues with their passion for creating student opportunities, he said.
What drew you to education? 
While playing college athletics, I was injured heading into the summer between my freshman and sophomore years. Instead of competing during the summer, I had surgery to repair my knee. A local high school reached out and asked if I would be interested in coaching their team. This seemed like a neat opportunity to compete in a different form. Once coaching, I realized I really enjoyed working with kids. So whenever I returned to college, I changed my major from business to education (and later directly to mathematics) in hopes of educating children. 
How are you creating opportunities for students?
This is a question I reflect on frequently. Often we can simplify "creating opportunities" by making sure our classrooms are accepting of all students, having a project-based learning style, etc. We may also oversimplify "creating opportunities" to say, "If I teach my students my curriculum well, they will be better prepared to go to college and major in my field related to my subject."
While all those things are good and proper, I try to consider how I am helping the student find greater success 5-10 years from now—regardless of their future goals. Are they leaving my math class understanding how interest works in finances? Do they understand how assets may grow in value over time due to demand and production? 
I often doubt the students will remember a formula 10 years from now, but if I can instill the principle that most assets grow in value over time, liabilities never cost what the price tag shows, and drill in how algebra operates, my hope is that students will be better equipped and prepared to make wise decisions and enjoy as much financial freedom as possible.
What is your best teaching tip? 
Focus on the things that matter and don't sweat the small stuff. 

Have realistic expectations. Students will have bad days and sometimes say things that are unfair. Let it go, and follow up the next day (assuming this is something that will not directly affect your classroom management with the entire class). Usually it's not you; usually it's something else going on in their life. Give them a day to process, and oftentimes they will open up and you'll truly be able to help.

Have a long-term view. Consider the farmer: I would assume they do not consider their value or abilities day by day by measuring the growth of their wheat or corn. Nor do they feel the need to quit because of a rainstorm or a delay to their plan. The farmer plows, they plant, they water, and they let nature develop. The farmer considers what they can control and makes the most of their opportunities. Then they trust that the seed and nature will do its part. So with teaching. There are good days, there are bad days. But view the entire season. Don't get lost in the "rainstorms." Keep focused on the long-term goal. 
What would your students be surprised to find out about you?
That I played baseball in college! They always think I'm just a "math geek" (it doesn't help that I wear Skyline math cluster's "mathlete" T-shirt on spirit days), but whenever I hear a student may be considering playing athletics at my school, I mention it, and the classroom always responds by being totally surprised and thrown off. 
What inspires you the most about being an educator?  
The letters from students at the end of the school year! I really appreciate the letters that say something about "never enjoying math before" or "not being able to see the purpose for algebra in today's world" but now having a different perspective and having really enjoyed the class. Precalculus is difficult. If students come out of the class feeling like they now enjoy math and see its purpose, I know I accomplished my job.