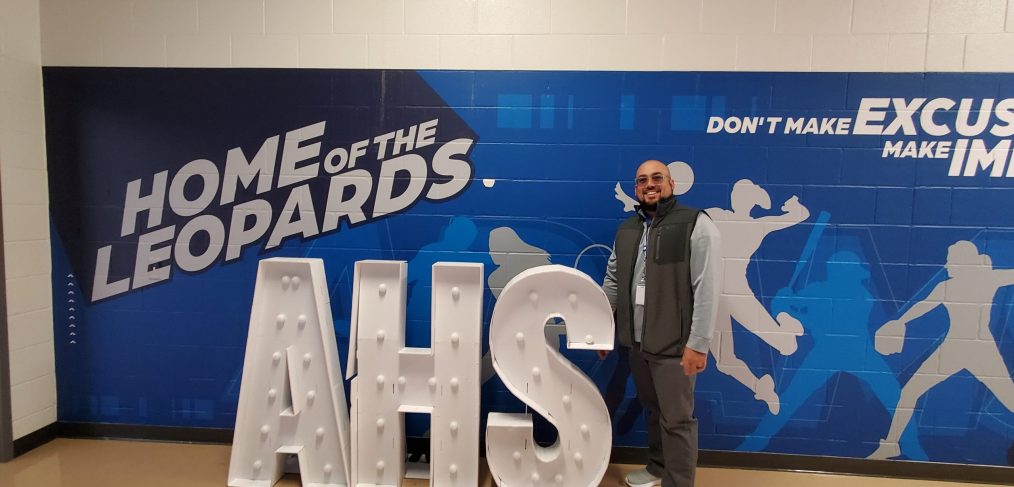 Heroic actions by teacher save the life of a stranger
Teachers are often thought of as heroes in the classroom, but sometimes, they get to be heroes outside of school. That was the case for Israel Alfaro, an English I teacher at W.H. Adamson High School, who recently found himself in a dangerous situation, playing a crucial role in saving the life of a hot air balloon pilot.
Alfaro—a Skyline High School graduate and three-year veteran of  Dallas ISD—was driving in Crandall to his sister's house when he noticed a hot air balloon in the sky. He said he called his wife, who is fascinated by hot air balloons, to tell her about it. While on the phone, he realized the balloon was about to crash. 
Alfaro drove toward the crash site, and by the time he got there, the hot air balloon was already on fire—it had landed on power lines.  Alfaro knew he had to act quickly so he jumped out of his vehicle and raced toward the balloon to check on whoever had been in the basket. 
Two men, who were in the car in front of him, also stopped and were already helping one pilot, whose injuries did not prevent walking, get out of the hot air balloon. Alfaro asked if there was someone else in there and jumped into action when they said yes. 
The first rescuers were wearing shorts, which prevented them from safely getting closer to the burning balloon. However, Alfaro was wearing pants and approached the basket to help the second man out of danger. 
The rescue proved to be challenging beyond the extreme and growing heat from the fire because of the man's injuries. He seemed to have broken his legs and was unable to move on his own. 
Alfaro carefully and quickly pulled him out and moved him to a safe distance just in the nick of time. As he was asking about any other passengers—trying to communicate with the Polish man past the language barrier—one of the tanks on the hot air balloon exploded. 
Alfaro said it was a scary moment, but it didn't sink in until later that had he not moved quickly, the outcome would have been very different for the pilot and for him.
"I wasn't thinking about the possibility of a tank exploding, because I figured that was all already done," Alfaro said. "If I would have taken seconds longer, that tank was going to explode on both the pilot and myself. At the moment you're not thinking about any of that. But I just feel like God was there, and I was just the tool."
Police arrived at the scene and pulled the injured pilot farther away from the burning balloon. Alfaro had been unable to move him again because the pain caused by the injuries was too extreme. The injured man was transported to the hospital by helicopter while the other pilot was taken by ambulance.
Alfaro reached out from the scene to let certain people know what had happened and that he was uninjured. Among the first messages he sent was to his principal, Stephanie Amaya, who quickly reached out to check in on him.
"That shows how much I trust my school principal and how comfortable I feel with my school and with my coworkers," Alfaro said. "I didn't know how I was gonna feel the next day, and I reached out because I knew that if I did need that support, I was going to have it at my school. I think that says a lot about my principal and the culture that she's building here at Adamson." 
Alfaro returned to school the next day and shared his experience with his students because the week before, the class had been discussing a poem titled "Shoe Store," which talks about not taking moments for granted. 
"Part of my lesson with my students is that you have to appreciate today, because we don't know about tomorrow," Alfaro said. "That lesson could not have been proven to be more true."
Israel Alfaro has the knack for being in the right place at the right time. After graduating from Skyline High School, he moved back to his native Puerto Rico to care for his ailing grandfather. He attended university there and also taught for 10 years. 

Back in Dallas for a visit in 2020, he heard about a Dallas ISD job fair at Skyline High School. He attended and met Principal Stephanie Amaya, who hired him  to teach at W.H. Adamson High School.