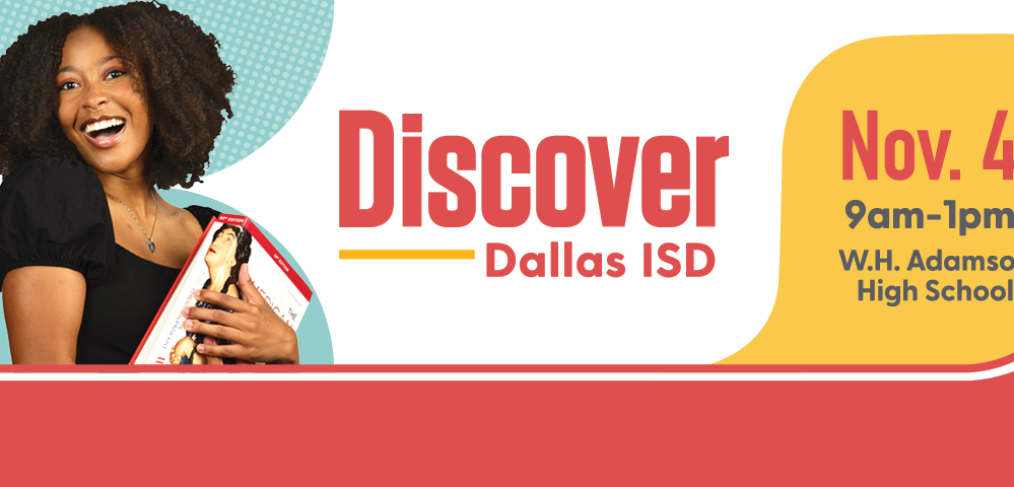 Get ready to Discover 
Join Dallas ISD for the largest opportunity fair in the city—Discover Dallas ISD—from 9 a.m. to 1 p.m. Saturday, Nov. 4, at W.H. Adamson High School. Families will have an opportunity to explore school offerings, preview all choice and application-based schools, and receive support submitting applications on-site. 
The district is committed to offering students a program that best fits their unique interests, needs and aspirations. The academic options offered are as diverse as the learners themselves and often equal or surpass what is offered at top private schools in the area. 
The Communication Services Department has created a digital toolkit to help schools promote the event within their communities. The toolkit includes graphics and video to be shared on social media, along with traditional collateral that can be printed and shared. The toolkit also includes messaging that can be used for campus-wide newsletters, social media, school messenger, and other school communications. Please access the Discover Dallas ISD Toolkit here: Discover Dallas ISD Toolkit
From innovation at its best to exceptional academics, engaging extracurricular and after-school opportunities, and safe learning environments, the district has a school or program for every child. Options include such programs as Montessori, International Baccalaureate, Talented and Gifted, Single Gender, Dual Language, STEM/STEAM, Visual and Performing Arts, P-TECH/Early College High Schools, Career Institutes, Collegiate Academies and much more.
Families interested in learning more about the application-based schools and how these choice programs can advance their students' education can participate in informative presentations during the Discover Dallas ISD event. After exploring options and selecting their preferred school, families can complete applications and receive assistance on-site during the event. For more information visit DallasISD.org/Discover.