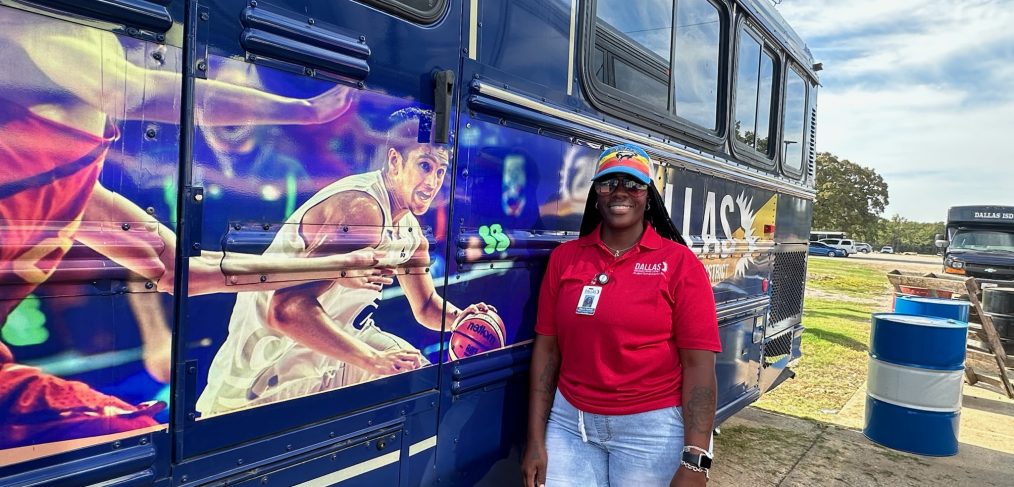 Bus driver acts fast to save student's life
During the 17 years that Raquel Radford Baker has worked for Dallas ISD's Transportation Services, student safety has been her first priority, but she never imagined she would be in a position to actively save a student's life while on a route.
At about 7:30 a.m. on Friday, Sept. 29, at Seagoville North Elementary School, she noticed a 7-year-old student staggering toward her in the bus. She first thought he might be sick because he appeared to be trying to throw up, Radford Baker said. As he got closer, she heard him mention something about a penny, and she immediately knew something was keeping him from breathing. She picked him up and stepped off the bus.
"I said God help me, because I have to save this baby's life," Radford Baker said. As she was running with the student toward the school, she was performing the Heimlich maneuver, a first-aid measure commonly used to dislodge an object that may be obstructing a person's windpipe. 
To Radford Baker, the mission was to try to get whatever was stuck in the student's throat out. When she made it to the sidewalk at the school, she asked a parent who was sitting on a bench to call 911. 
As the parent was on the phone with the 911 operator, Radford Baker continued performing the Heimlich maneuver. She remembers telling the child "Breathe, baby, breathe. Miss Rocky got you," as she pushed. During this process, a quarter that had been lodged in the student's throat landed on the floor. 
Radford Baker said the student then stepped to the side and said "Miss Rocky, I'm okay." 
It was a powerful moment of relief for her, to realize she had just saved a student's life. 
"I asked him if he was okay and he said, 'Yes, I can breathe.' And I immediately just hugged him tight," Radford Baker said. 
Radford Baker asked the student to please never play by putting money in his mouth again. 
"At that moment, I told God, thank you for giving me the courage and the wisdom and the knowledge to save this baby's life," she said.
After the student was breathing again, Radford Baker spoke to the school nurse who made a report of what had happened. The child's grandparents even met up with Radford Baker that day to thank her personally for saving their grandchild's life. While she assured them that she was just there to do their job, she is aware of the impact her actions had on the child and his family. 
Radford Baker said when faced with the situation, two of the district's culture tenets— Focused and Fast—kicked in, allowing her to react quickly and effectively.
Another skill she got through Dallas ISD that helped her save the 7-year-old student was CPR and first aid training she has received, she said. She was thankful that she still remembered it and was able to use those skills to help save the student. 
Because the skills were critical to saving the child, Radford Baker thinks CPR training would be useful for other bus drivers to have and would love to see it be part of the professional development they receive during the year.  
The events of that day remain fresh on her mind and she is thankful to have made a difference and to be able to see the students' smiling faces every day, she said. "I always say 'good morning, how is your day going?' I just love to see these kids smile and make sure they get to school safely and get picked up from school and transported home in a safe manner to their parents," said Radford Baker. "One thing I love about transporting students is that I am transporting future  NFL players, NBA players, future doctors, nurses, attorneys, lawyers, law enforcement etc. They are the most precious gift ever to me, and I am grateful and feel privileged to transport such precious cargo."