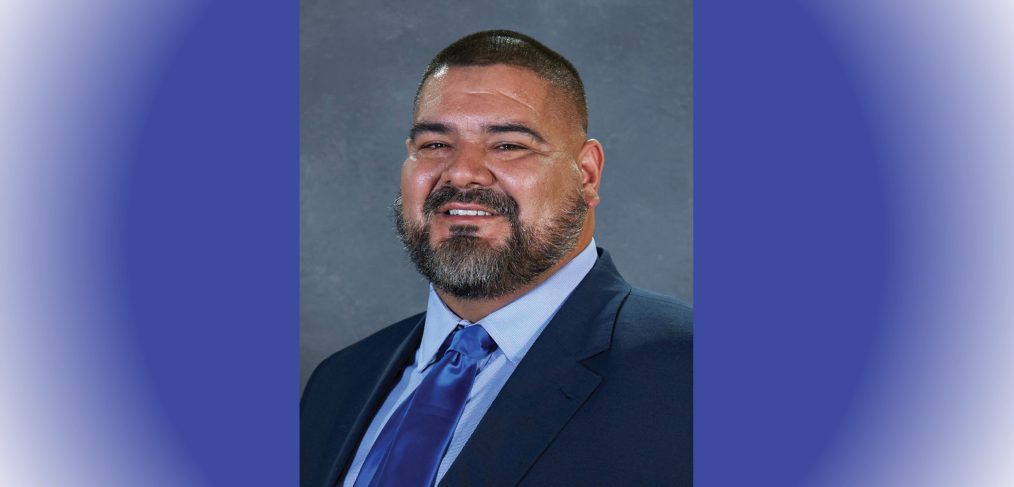 National Coaches Day Spotlight: Claudio Urbina
When Claudio Urbina, athletic coordinator, and head football coach at W.H. Adamson High School, first learned about being named the new athletic coordinator for his alma mater, it was a powerful moment for him. Dallas ISD is celebrating coaches like him on National Coaches Day on Oct. 6 and throughout the month.
"Even now when I drive into work, it's still somewhat surreal," Urbina said. "I can't believe this is what I do for a living. I really enjoy what I do, and I know what we're doing has a direct impact on the kids in this community." 
For Urbina, who attended Dallas ISD schools from kindergarten to Adamson High School and has taught for 16 years in the district—Dallas ISD is home. 
"I'm a product of Dallas ISD and Adamson High School, and what better platform is there to be able to teach and guide students," said Urbina, who graduated in 2000. 
Before his position at Adamson, he was football defensive coordinator and head boys soccer coach at Wilmer-Hutchins High School, where he spent the last nine years until January, when he accepted his current position. Prior to that, he was at Pinkston High School where he was the boys soccer head coach and football coach for six years. 
For Urbina it's been a journey that led him exactly to where he wanted to be. He had originally wanted to be a professional football player in the National Football League, but his dream changed along the way. Part of this shift stemmed from having had many great teachers and coaches and knowing the impact they had on him growing up. 
"There are students who are looking for somebody to look up to and that pushed me a lot," Urbina said. "Being Latino and being from this community, many of my students can identify with me. I let them know that they can achieve their goals."
Urbina has always valued and prioritized his passion for education and sports. He attended Paul Quinn College where he was captain of the football team and received his Bachelor of Education degree in 2005. He also has a master's degree in educational leadership from Lamar University. 
National Coaches Day recognizes the important role coaches play in their schools and communities. They often have to play multiple roles as teachers, mentors and sometimes advocates—roles that Urbina knows well. 
He says the goal for him and his staff is helping students grow up to be productive citizens, guide them to make the right choices, and help lead them in the right direction. One of the valuable lessons that Urbina says students get out of being athletes is learning time management skills and discipline, skills that will help them for the rest of their lives.
Urbina attributes part of his success to his uncle, Roberto Urbina, who was one of his role models growing up. His uncle was a coach at Adamson while Urbina was a student, and his uncle continues to be the boys track and cross-country coach at the school.
"As kids, we have dreams and aspirations and seeing someone that grew up in the same neighborhood and kind of from the same background, it gives you a little bit more motivation and makes you feel like you can accomplish your goals," Urbina said.  
While many former students didn't become professional athletes, Urbina says he sees them doing great things in the community, such as being teachers, doctors, or working in other professions, including coaches. And that's what's important to him.
"Being a servant leader is what this position really is," Urbina said. "You're working with the coaching staff, administration, and this community. Parents sometimes need guidance as well—so the main thing is practicing empathy and to serve."
For more information about Dallas ISD Athletics Recognition Weeks, download this flyer.