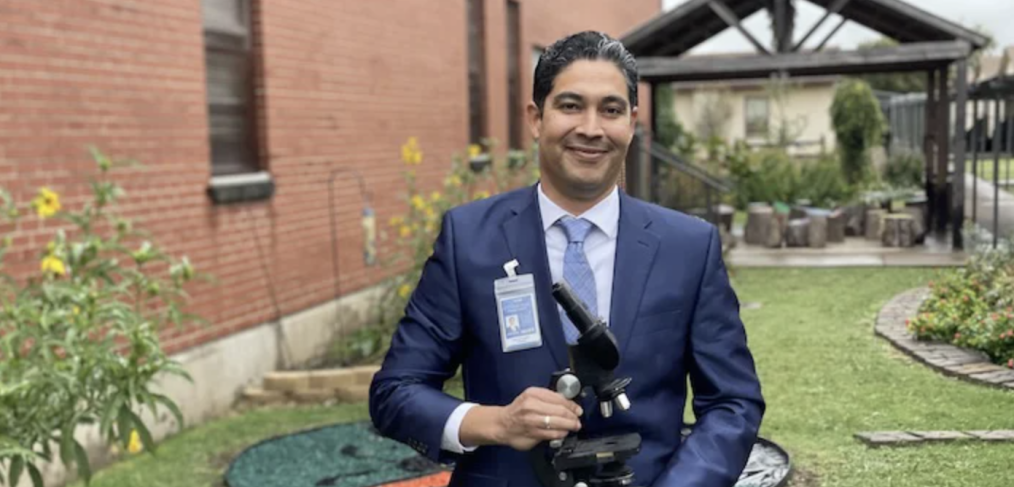 Hispanic Heritage Month: Principal follows his "why" 
Roberto Gonzalez, principal at Biomedical Preparatory at UT Southwestern, did not set out to become an educator, but he said in many ways, teaching was all around him as he was growing up in Cartagena, Colombia.
His mother worked as a math teacher and then as a principal in Colombia, inspiring Gonzalez to pursue a life of service—one that started out in the medical field.
"I always liked to help," Gonzalez said. "My mind was helping people, so I went into the medical field and became a family practitioner working with underserved communities."
Due to violence that made it increasingly difficult to live in Cartagena, Gonzalez ultimately decided to leave Colombia and come to Dallas, where his sister was working as a teacher. She invited Gonzalez into her classroom to record a video of her teaching, and Gonzalez said he "fell in love with teaching." 
Not long after, he became an educator himself. While it was a big transition, Gonzalez said he did not lose sight of his purpose because he always remembered his "why."
"My why was never being a medical doctor or being a teacher—it was helping people get better," Gonzalez said. "Education and medicine are very related. You have to prescribe something so a patient gets better, and you have to prescribe a good curriculum and good lessons in education so everybody gets better." 
Gonzalez first joined Dallas ISD in 2006, working as a teacher, then as a coach, an assistant principal, and a principal. No matter the role, Gonzalez said he has remained committed to bringing equity and opportunity to the forefront for every student. 
His dedication led him to being a founding member of Biomedical Preparatory at UT Southwestern, which has "intertwined his two passions into one place." 
Gonzalez has seen countless student success stories since Biomedical Preparatory started classes, but some of his recent favorite memories were taking students to a simulation center, where they got to experience an operating room of mannequin patients, and, of course, bringing a kangaroo to campus. 
"Seeing the joy on their faces and seeing the joy of my team members makes it all worthwhile," Gonzalez said.
Throughout the 2023-2024 school year, Gonzalez and his team will continue working tirelessly to bring new opportunities to students—and to make them feel like they belong. Gonzalez said leaning into that sense of belonging is what celebrating culture and heritage mean to him, and he wants to ensure his school creates a culture of belonging for every student it has.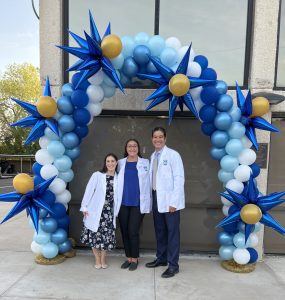 "During Hispanic Heritage Month, they will see what Hispanics can bring to the table and the struggles we have had," Gonzalez said. "But I also look for ways to highlight every student on campus. We will celebrate Black History Month, Asian American and Pacific Islander Heritage Month, and more, and we won't just talk about it. We will try to live it and make our students feel at home."
While there is always work to be done, Gonzalez said he is proud of his team and the welcoming, innovative community they have created together. He said he especially wants to thank Assistant Principal Gina Maffucci and Coordinator Natalie Cruz-Garcia for supporting his goals for their campus. 
"They read my vision, and they go with it," Gonzalez said. "The biomedical team is amazing. It's because of them that I'm here and this dream job is my reality."