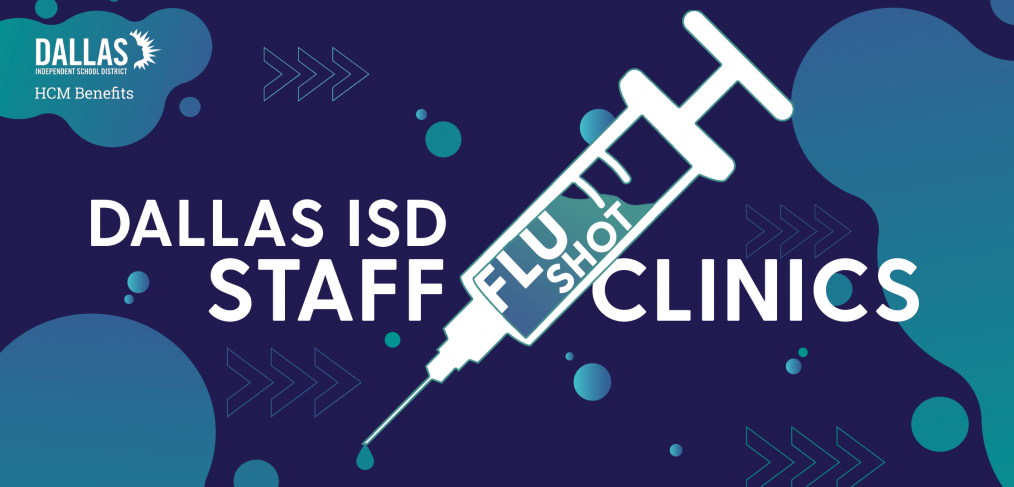 Flu Clinics start soon
While seasonal influenza, or flu, viruses are detected year-round, flu viruses typically circulate the most during the fall and winter, a time that has come to be known as the flu season. 
The exact timing and duration of flu seasons varies, but flu activity often begins to increase in October and peaks between December and February. Since the start of the COVID pandemic, the timing and duration of flu activity has been less predictable. One of the ways to protect against the flu is to get the annual vaccination.
Dallas ISD Benefits Department is coordinating districtwide flu clinics for employees who want to get the flu shot as well as other vaccines available—high dose flu vaccine ( 65 +), COVID vaccine / booster, pneumonia, shingles. Flu clinics start Oct. 3 and registration is required. Visit the Districtwide Datebook at https://www.dallasisd.org/datebook#calendar15152/20231026/month to find the date and location of your choice. To register for a particular date and location, click on the event and then click on register. You may have to sign in using the Dallas ISD Portal to register, and you should receive a confirmation email. 
All levels of BCBS TRS plans are accepted for all vaccines. Scott & WhiteTRS* plans can be accepted for flu and COVID vaccines only. Other Insurance that will be accepted include Aetna Choice, Blue Cross Blue ShieldPPO, Cigna PPO, Humana PPO, Medicare Part B and United HealthCareChoice plans based on plan coverage. 
Employees should bring their insurance card and a photo ID to their appointment.