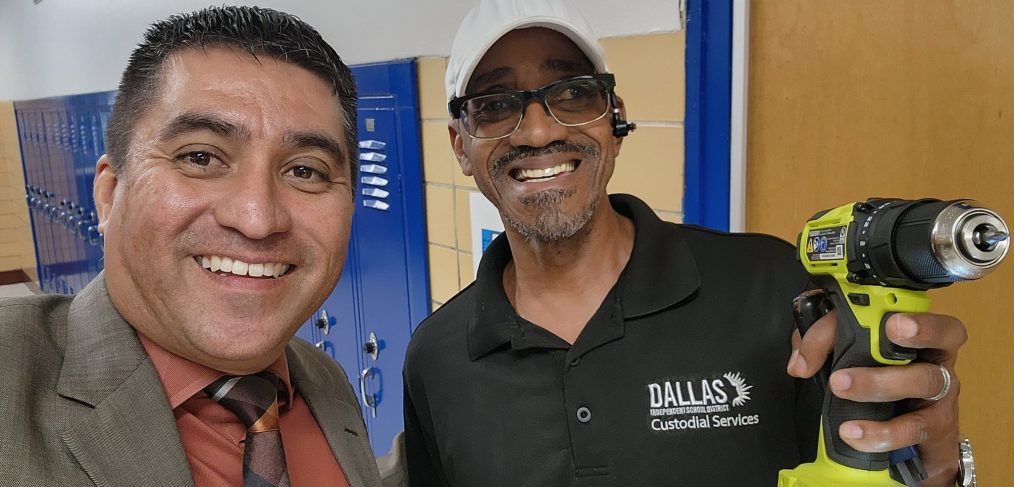 Celebrating contributions of custodians
When people walk into lead custodian Frank Craig's office at Jesús Moroles Expressive Arts Vanguard, they are greeted by a whiteboard full of notes from students with messages similar to, "Thank you for keeping our building clean."  
Dallas ISD is joining those students in honoring and celebrating the district's custodians on National Custodian Day on Oct. 2 because of their commitment to Core 4 customer service and their passion for creating safe, clean environments for students and team members alike. 
Craig, a proud member of the Custodial Services team, has three decades of experience in the field, and said the "positive impact" he makes on students as well as their interactions have kept him passionate about his job each and every day.
"Some people don't get excited about work, but when I back out of my garage every morning, I have a smile on my face," Craig said. "These kids are wonderful. I wouldn't trade the atmosphere here for the world. I mean, I love it here. They treat me as if there is nothing I cannot do in this building."
Each morning starts around 6 a.m. as Craig ensures Principal Marissa Tavallaee's office is ready, turns the lights on, double checks the air conditioning, and walks the building to take care of any necessary work orders as quickly as possible. Then he proceeds to collaborate with his small team to guarantee their campus is "clean from top to bottom." 
Together, they work to ensure their principal is satisfied with the state of the school, because, in Craig's words, "As long as our principal is happy, that means I'm happy and everybody else is happy."
Being focused, fast, flexible, and friendly comes naturally to Craig, who made a point to thank the incredible leaders and team members in Dallas ISD who have helped him progress in his career and treated him with the utmost respect over the years. But ultimately, he said it is the students who make every day worthwhile. 
"I love putting a smile on their faces," Craig said. "You never know what these kids are going through. It's more about the students than it is about anything, and sometimes we are the only people that they can talk to. That's what makes me come to work every morning."