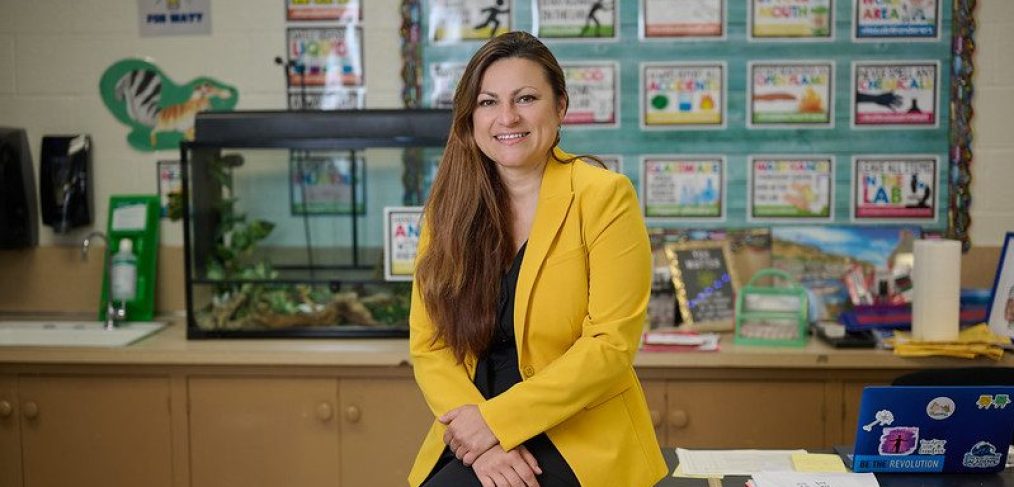 Service Above Self Award winner shares passion for education
For Adriana Popa, a seventh- and eighth-grade science and physics teacher at Sudie L. Williams Talented And Gifted Academy, service has always been a key motivator that has led to being recognized with a 2023 Service Above Self Teacher Award from The Rotary Club of Dallas.
These awards are given to teachers who have demonstrated excellence in their profession by going the extra mile. While Popa said she feels "special and celebrated" to have earned the honor, she is not motivated by recognition.  
Popa has a long history of going above and beyond, including becoming a medical doctor in her home country of Romania, a volunteer physician in Italy, and an educator through Dallas ISD's Alternative Certification Program. She also served as an AmeriCorps volunteer in a Dallas ISD classroom, and has supported gardening clubs, soccer teams, STEM academies, and more. 
"I really think it's an amazing opportunity that has happened to me. I never considered becoming a teacher growing up, and I found my calling," Popa said. "When I started teaching eight years ago, I wanted to be that teacher that I felt like I never had during my K-12 and use hands-on skills to teach science because when the students see, touch, and do, they never forget."
Many of Popa's favorite memories in the classroom come from the engaging activities she has created. For example, she said she did not know what a s'more was until she moved to the United States, and she decided to share the fun with her students by using tea candles to make s'mores and explore the evidence of chemical reactions. 
"I will never forget how I had kids actually walking out of my classroom thanking me and saying, 'You gave me the experience of my life. I've never had something like this,'" Popa said. "To actually learn and feel trusted to do an experiment, something they can learn from and eat, they obviously enjoyed it. These moments make me go home and want to do even more."
Popa, who has been recognized as exemplary by the Texas Education Agency, said her inspiration to create memorable moments in the classroom and put her students first comes from her desire to give back. 
"When I was a kid dreaming of becoming a physician, all I wanted was to help people," Popa said. "To me, serving means trying my best to care for as many people as possible, from handing out food to the homeless to baking and cooking meals for a student who is sick. I feed off the energy I get when I feel like someone I helped is doing well and has a big smile."