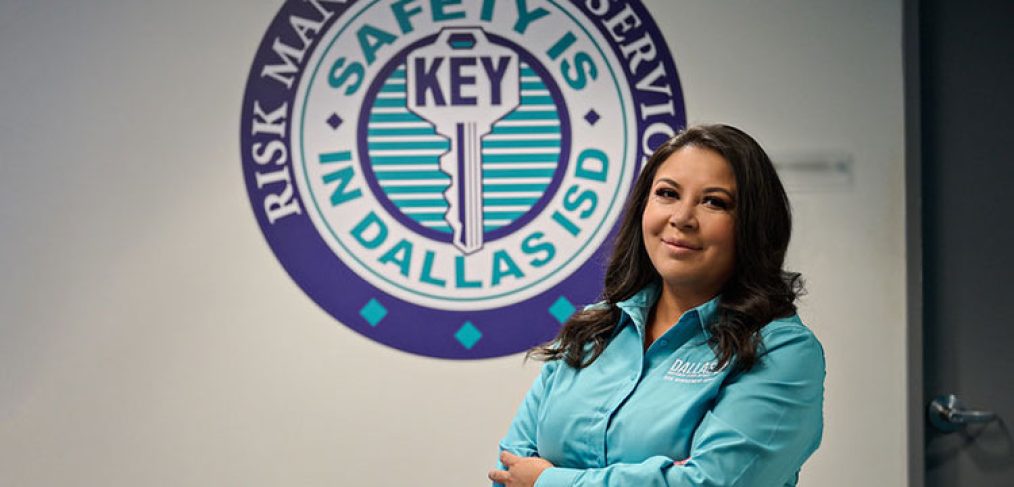 Supporting student success through Risk Management
Dena Dutchover has been with Dallas ISD for almost a decade, and in her current post as coordinator in Risk Management, she is one of the team members who is tasked with  identifying potential risks and mitigating their effects before they occur.
Dallas ISD's Risk Management Department is a part of Financial Services and is responsible for the identification, evaluation, treatment, and monitoring of the district's operational risks. Dutchover works on such projects as unemployment claims filed with the Texas Workforce Commission, vendor insurance, and driving safety.  
For the Risk Management team, identifying potential risks and mitigating their effects before they occur also includes cybersecurity, workers compensation, athletics, property insurance, and more. 
One of Dutchover's regular tasks for the past nine years is ensuring fire safety is top of mind throughout the district by working with the Campus Safety Team, School Leadership, and various departments, providing trainings in fire drill protocols and monitoring compliance.
"When you're in a role in education, you're there for a reason," Dutchover said. "You're there to make a difference, and it has been incredible to work with so many people and see all the effects our work is having across the city."
Another memorable moment for Dutchover was supporting her peers when the COVID-19 pandemic first began. She said unemployment claims were coming in at a "high volume," and many of the callers were misinformed about the processes they needed to follow to get resources and support. 
"I was working until 2:30 in the morning at times because there were 75-plus claims due the next day," Dutchover said. "It was back to back, and it was like that for months. I was really pushing myself when it came to my work, but I was determined to do it. It was my success story."
Coming from a "long line of educators," Dutchover said she is an advocate for education and paving the way for student success. She is passionate about the work she does, and she said she enjoys working with her team and other departments.
"It takes a village, so to anyone in the district, just know that we are thankful for having those partnerships because they are important," she said. "My team is a whole other family. I don't want to get teary-eyed, but we spend the majority of our waking hours at work, so it's super important to be happy with the people you're around. A smile is contagious, and they're easy to find with a team like this one."
To learn more about the work the Risk Management team is doing, visit https://www.dallasisd.org/riskmanagement.