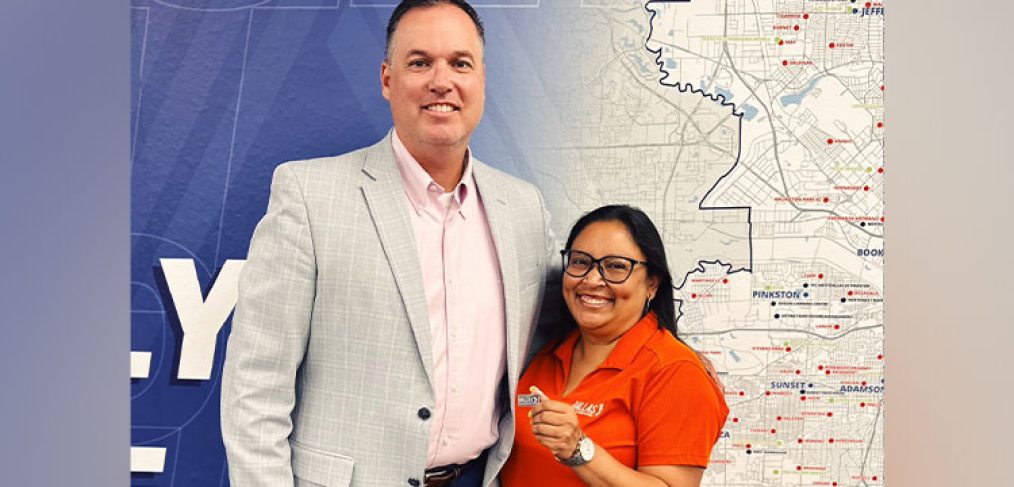 Going above and beyond in MFS
Sophia Orta, office manager for the Mechanical, Electrical and Plumbing Department, has been working for Dallas ISD for 20 years, and her passion and commitment for service were recently recognized with a special pin. 
Chief of Operations David Bates visited the Maintenance and Facility Services building at 3701 Botham Jean Blvd. to present Orta with the pin, which she said she was not expecting at all. 
"I don't do what I do for appreciation or recognition," Orta said. "It feels good to be appreciated, but I'm going to do it regardless."
Orta has served the district on three different campuses as a financial clerk, office manager, and more in addition to her current work. She said her drive comes from her desire to support those around her and contribute to the success of students across the district.
"I enjoy being helpful," Orta said. "Everyone says my personality is open and friendly. The relationships we build with each other and others make a difference and make it easier to come to work every day with a smile."
Her main responsibilities include, but are not limited to, doing the payroll for over 100 employees, managing requisitions, and overseeing contract services for all crafts. 
"I have so many people from different departments who will walk into my office and say, 'Can you do this or help me do that?'" she said. "The way I see it, we're in an education field, so we're going to learn, we're going to teach, and we're going to have to improvise and adjust to changes and realignments. My goal is to be open and available to anybody."
To achieve that goal, Orta relies on the Core 4 culture tenets, a necessity in her field. She strives to be fast, focused, flexible, and friendly as she adapts to needs with the Mechanical, Electrical and Plumbing Department and beyond. 
"I'm feeling grateful that people do see my work because a lot of it is behind the scenes," Orta said. "Knowing that my team is seeing me and showing appreciation for me being open and available to help them, it's huge. So thank you."