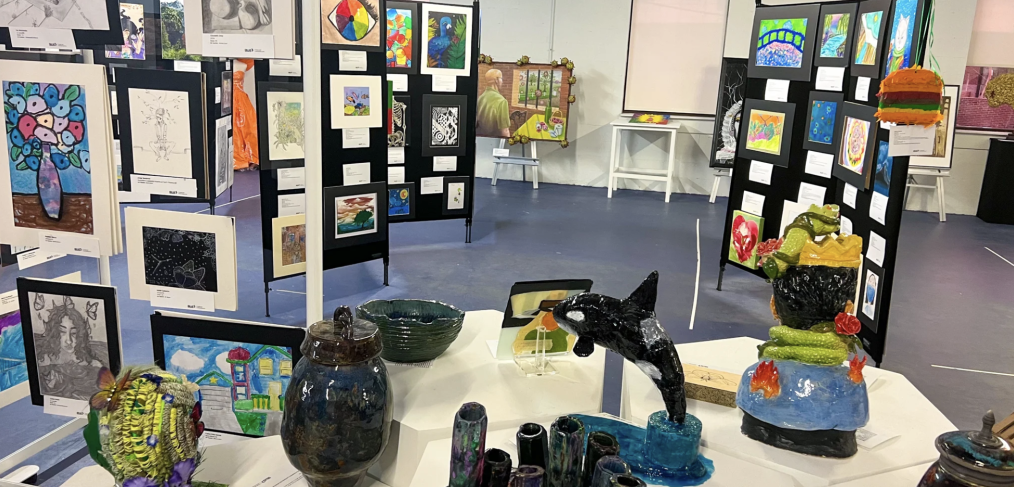 Dallas ISD Wins 2023 TAEA District of Distinction Award
Dallas ISD is the winner of the Texas Art Education Association (TAEA) District of Distinction Award for the third consecutive year. This distinction honors school districts who are leading the way in the visual arts as well as exemplifying a well-rounded education that advocates and integrates visual arts curriculum to inspire creativity and build social-emotional learning. 
"This award for the third year in a row is a testament to the passion, importance, and hard work of our visual arts teachers. We are so proud to be the largest district in Texas to receive this honor," Monica Hayslip, director of the Visual and Performing Arts department said. 
With approximately 285 art teachers on 220 campuses, the visual arts are an important part of the district's offerings for all students. Art education allows students to express themselves, communicate their voices, and develop creative problem-solving skills by exploring drawing, painting, printmaking, sculpture, ceramics, photography, and other digital media. 
"Dallas ISD has set a high standard for visual arts advocacy, integrated visual arts curriculum, and encouraged creativity, community participation, and student growth," said Sandra Newton, chair of the Visual Art Administrators of Texas, a division of TAEA. "It is a true testament to your visual art educators' skill, dedication, and flexibility that the quality of their programs continues to provide strong and comprehensive visual art educational experiences to students." 
For the past five years, TAEA has been honoring school districts that meet rigorous criteria. Over 1, 200 districts were eligible to apply for this year's award and only 68 of those districts met the high standard. Dallas ISD is the largest district in Texas to be recognized for excellence in arts education. 
According to Hayslip, visual art curriculum materials are focused on the elements of art, principles of design, and creative processes using a variety of art materials. Students also study and discuss a diverse group of artists from the past and present. Writing and discussion through critical evaluation and oral response activities also help students develop critical thinking skills. 
"The visual arts is a universal language that uses symbols, shapes, forms, lines, and colors for student expression, innovation, and exploration. There is no language barrier in art. With our diverse population, art is extremely popular and provides a tool for all students to communicate," Hayslip said. 
Dallas ISD will be honored at the TAEA Fall Conference General Assembly on Nov. 17. 
To see all of this year's District of Distinction winners and find out more information, visit taea.org/TAEA/districts-distinction.asp.