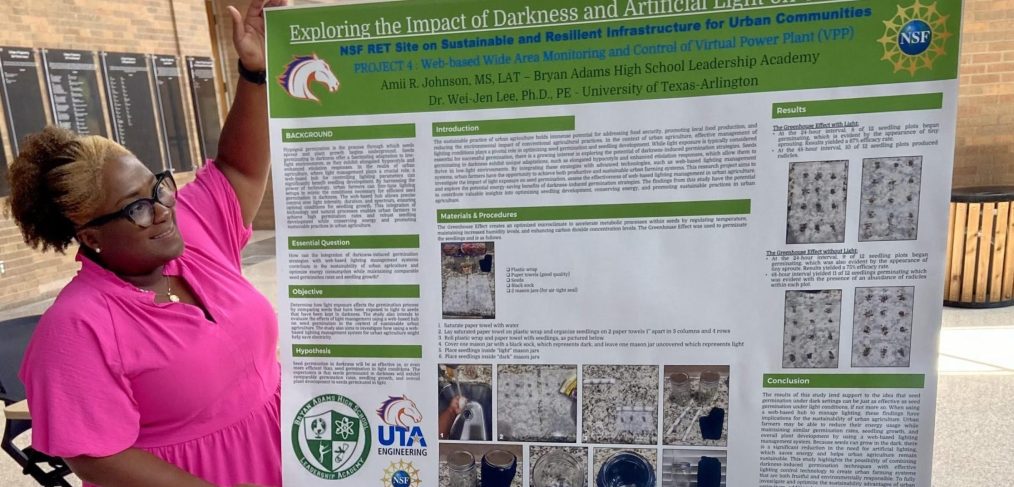 Vacation can be an education
Last week, we featured family reunions, a trip to the World Cup and surprise visits to mom. Because team members did so many interesting things during their summer break, this week, we are sharing vacation adventures with an educational twist. Teaching, learning, and exploring all over the globe, Dallas ISD team members are bringing this world-class knowledge into the classrooms this year. 
Amii Johnson, a teacher at Bryan Adams Leadership Academy: I participated in a six-week research program at The University of Texas at Arlington. The name of the program is the UT Arlington RET Site on Sustainable and Resilient Infrastructure for Urban Communities. You can find information about it here. I thoroughly enjoyed learning about engineering, infrastructure, and sustainability and how they apply to both my own life and the subject of biology that I teach. The professors, engineers, and educationally engaging field trips at UTA were all enjoyable as well. I had the opportunity to do research at UTA, produce a scientific poster, and present my findings.
John Mayes, a teacher at  Hutchins High School: I had the opportunity to teach at a chemistry camp for two weeks at The University of Texas Southwest Medical Center in Dallas. It was great to get to know several other chemistry teachers in the Dallas-Fort Worth area. I worked with some of the top science high school students in the area, and I was amazed at how quickly they were able to understand content that is considered hard to understand. Most of the students could grasp more in five minutes than what it takes the average chemistry student to understand in a week! 
Folashade Badejo, an assistant principal at Career Institute North: I traveled to Nigeria to celebrate my 40-year high school reunion event and to be with my family. My favorite part was the opportunity to see my classmates that I have not seen in 40 years!  The highlight was the privilege to facilitate a training on DNA extraction from fruits, and teaching strategies for 12 science teachers at my former school—my way of giving back to my community.
Eva Maria Flores Perez, a teacher at Eduardo Mata Montessori School: I was immersed in my Montessori training at Shelton. I learned all the things to become a Lower Elementary Guide. During the whole month of training, I enjoyed the community-building with other teachers from the district who decided to spend their summer learning for the benefit of our students.
Yvonne Morgan, a teacher at The School of Health Professions at Yvonne A. Ewell Townview Center: I led the UT Southwestern STARS Summer Camp for Anatomy and Physiology for the third year in a row as master teacher for the camp. With a rising senior in our home, we saw miles and miles of Texas this summer, as we completed a total of 10 college visits. I loved being able to visit the universities and hear from all the current students at the campuses as they explained to us what made their school unique and why my son should choose that university. As a Career and Technical Education teacher to junior and senior students, it also helped strengthen my knowledge base about the whole admission process, the expectations from each school, and to learn more about the local universities, which will allow me to help my students as they navigate the path of college admissions and visits. Many of my students do not have someone at home that can help them.
Benjamin Doan-Stevens, a coordinator at Booker T. Washington High School for the Performing and Visual Arts: I traveled to Ecuador and the Galapagos Islands. It was wonderful doing science experiments on the equator. I learned a lot about Ecuadorian history and culture. The way that their government has come to include and honor indigenous people is very inspiring.
Daniel Taylor, a counselor at Skyline High School: I chaperoned a study abroad program in London for six-weeks called Theatre Behind the Scenes. This was my first time ever experiencing London culture. I got to watch a lot of live theater, visit the beautiful historic monuments and areas, and eat the diverse cuisine.This story was sort of funny and a learning experience because I forgot that the Londoners drive on the opposite side of the road than we do here in the United States. Coming from the airport I took an Uber to my hotel. As the driver took off, I screamed because I thought he was driving into oncoming traffic!
Connie Westbrook, principal at C.A. Tatum Jr. Elementary School: I traveled to Montana, and every town I visited felt like I was starring in a Hallmark movie. The fireworks on the Fourth of July  in Laurel, Mont., were the best I have ever seen. People everywhere were proud of their heritage. 
Luis Diaz Cheverez, a teacher at Career Institute South:  I went to Puerto Rico, Germany, Andorra, France, Spain, Portugal and Poland. I have been to 40 countries! I learn something new every time in these new great places, and I meet people that always become family.
Karina Colon Webber, an instructional specialist for Early Learning: I took some days to visit Punta Cana in the Dominican Republic with some beautiful friends. I believe my favorite part was to just relax and enjoy the food, tours and music of the Dominican Republic. Most people assume that Punta Cana is part of one island called the Dominican Republic, but it is part of La Hispaniola, which is a big island that the Dominican Republic and Haiti share.
Olinca Molina Azpeitia, teacher at F. P. Caillet Elementary School: I traveled to Germany, France, and Barcelona, and I learned that many old institutions continue functioning basically in the same way they did centuries ago. It's interesting to see that we have more in common with people in those countries than we usually expect. Globalization has made us similar in good ways. Cultural differences exist, but a new world culture, and a new and rich interface is being developed thanks to the technology and the information of events being communicated in real time.
Thank you to everyone who submitted their stories. We look forward to showcasing your voices as a way to continue engaging Dallas ISD team members through these opportunities to share with each other.