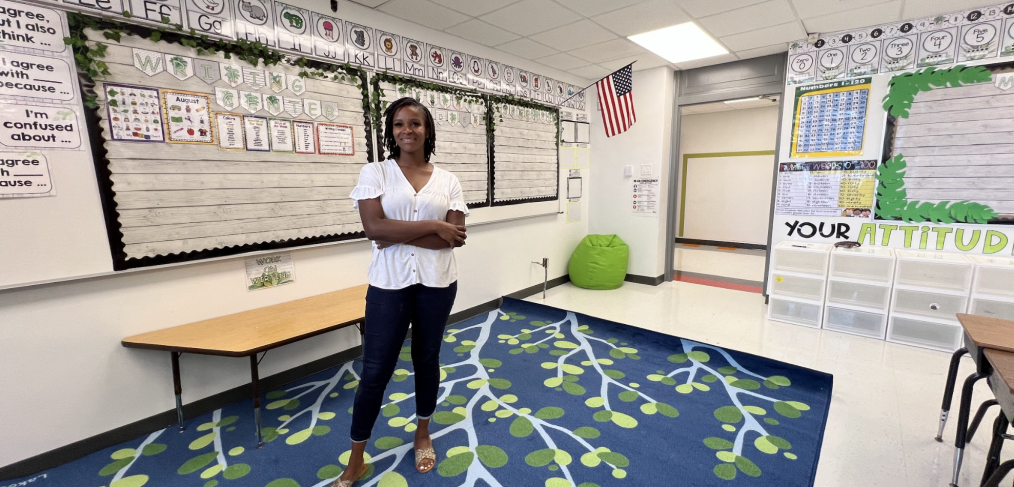 Experienced teacher embraces first-day jitters for the new school year
As the sun rises on the first day of school, a mix of excitement and buzzing energy will fill the air. Although the nerves associated with the first day of school are typically associated with students, even the most seasoned educators can't deny feeling a tinge of restlessness before they stand in front of their classroom door, ready to welcome new students. 
Chazlee Jackson is no stranger to the start of a new school year, but this year's first day of school will look different for her. Jackson dedicated six years of her teaching career to Elisha M. Pease Elementary, where she honed her skills and made lasting connections with her students. For the 2023-2024 school year, she takes on a new role at Barbara Jordan Elementary, teaching first grade. 
"I'm thrilled to be part of the Barbara Jordan Elementary community," said Jackson, a Dallas ISD alum, which adds an extra layer of sentimental attachment to the district. She attended Harry Stone Montessori and Booker T. Washington High School for the Performing and Visual Arts.
As she embraces her first day at a new school, Jackson acknowledges experiencing back to school jitters of her own. 
"Jitters happen for teachers, too! I literally have to count sheep, meditate, and do breathing exercises to calm my nerves," she admitted. Yet, she embraces the new environment with an open mind and anticipates a rewarding year of growth and learning alongside her students.
Despite being in a new location, she continues to be consistent and effective in her preparation for a new school year. Jackson has developed a process that helps her set the stage for a successful academic term. 
"I will reflect on my previous school years and really become familiar with what worked and what didn't," she said. She writes down a list of pros and cons from the previous year, analyzing why certain approaches were successful and others weren't. This reflective practice allows her to plan and strategize effectively for the new year.
Drawing from her experience of starting a new school year at a different campus, Jackson offers valuable advice to fellow teachers going through a similar transition. "Walk in with your head held high because you deserve to be in that space," she encouraged. "Be open-minded and remember to protect your peace. A stressed teacher is never their best teacher."
For students who may be nervous about the new school year, Jackson's message is one of empowerment and positivity. "Remind yourself that you are growing and learning, and it's okay to make mistakes. This school year will only be great if you believe it. So tell yourself, 'I will have a great school year because I deserve it!'" 
As the bell rings on August 14 to kick off the new school year, Jackson will stand in front of her classroom ready to embark on a new chapter in her teaching journey, armed with experience, passion, and an unwavering commitment to shaping young minds at her new school.