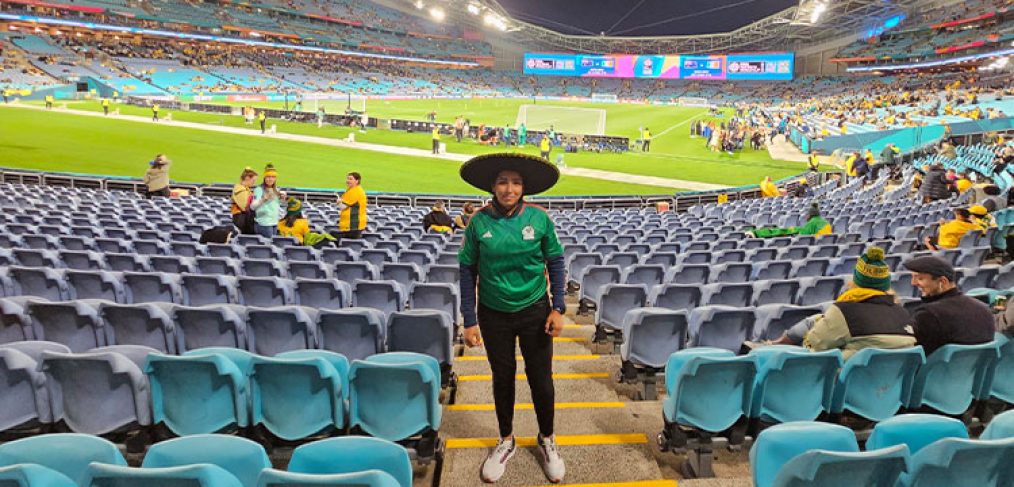 Dallas ISD Team Member Vacations Part I
Dallas ISD team members were all over the map this summer, from travels to Puerto Rico, Belize, Nigeria, Bahamas, Jamaica, Mexico, and various countries in Europe, to New Zealand and all over the United States, they all made new memories. From family and friend reunions close to home and overseas, to cross-country travels—team members were living their best lives. Because there were a lot of great vacation stories, we are sharing them in two parts. 
Adventure seekers, anniversaries, and celebrations
Stephany Cortes Rogel, a teacher at Rosemont Upper: I attended the Women's World Cup in Australia and New Zealand, and it was absolutely exciting. This was my first World Cup and my first time on this side of Earth. Every match I attended had its own story. Attending the best Women's World Cup was a great experience, and I can't wait to share it with my soccer girls team at Rosemont Elementary.
Felicia Shaw, an office manager at City Lab High School: I celebrated my 25th wedding anniversary in Jamaica. I enjoyed everything, especially parasailing for the first time. I felt like I was on top of the world! I even have a video taking-off and I recorded while in the air.
Paola Gomez Agudelo, a manager in the Alternative Certification Department: During our summer break, I traveled by myself to San Pedro Island, Belize. I'm a certified open water diver, so I had the opportunity to dive at the Hol Chan Reserve in Belize. This was a very special trip because it was my first trip by myself to a country I have never been to before. When I went to find out about scuba diving trips, they told me I could go and feed the nurse sharks at the Hol Chan Reserve. I thought they were going to be enclosed, but to my surprise, they were all around us. My first encounter ever with sharks was exciting.
Stefany Ramirez, a teacher at Larry Smith Elementary School: I celebrated my bachelorette party in Cancun, Mexico. I enjoyed spending time with my closest friends and frolicking on the beach. All-inclusive resorts are always a must and so is quality time with friends.
Reunions
Mark Olateju, a teacher at Benjamin Franklin International Exploratory Academy: I traveled to the United Kingdom for a week and reunited with cousins that I had not seen in several years. I was surprised by the number of Americans in London! It reminded me of another American city like New York!
Maria De La Luz Garcia Villalobos, a teacher at Hotchkiss Elementary School: I visited family and friends at my hometown, Tampico, México. I got to see my 84-year-old mom, family and soulmate friends who I've known since about 1979. My mom didn't know about my visit, and I covered my identity. I changed my voice, my name, and wore sunglasses and a mask and pretended I was an old, forgotten friend. It was so funny because she didn't recognize me. When I let her see my face, it was so emotional. We held each other, cried and laughed at the same time. My sister recorded the moment. It was unforgettable!  
Terri Scott, a nurse at Wilmer Hutchins Elementary School: I spent time with my grandsons and traveled throughout Texas for family get-togethers. My grandsons live in Idaho, they are 7- and 6-years-old. The oldest, Liam, is autistic and the apple of my eye. The youngest is Conner, and he would make my life so hard trying to pronounce dinosaurs' names like therizinosaurus. Conner was constantly sneaking in to see what scary movie we were watching. On his last attempt, he shoved open the door and yelled, "Conner's back baby 'cause you're part of my peeps!" No idea where he got that from but we died laughing.
Leah Richard, a teacher at Justin F. Kimball High School: I spent  time with my 85-year-old mother in Corpus Christi. We had an amazing time, and the smile on her face spoke volumes. My favorite part was experiencing a boat ride with my mom and the joy and excitement we had. I learned you can overcome anything. I never dreamed of me getting on a boat. Now I'm planning a cruise to Cozumel next summer.
Family Vacations
Amanda Gomez, a data controller at George Peabody Elementary: My favorite thing about traveling was spending much needed time with my family. We went to Disney World, Disneyland, took a cruise to the Bahamas, traveled to New York and back to Orlando. The kids learned a lot about cultures and how privileged they really are.
Megan Johnson, a teacher at Skyline High School: I visited the Grand Canyon in Arizona and the Mayan ruins, swam in a cenote in a cave, and enjoyed the beach in Tulum, Mexico. I spent a week vacation with my family in Tulum and learned that the best vacations are spent with family and friends. There is nothing like family time!
Genevra Buchanan, a teacher at Whitney M. Young Jr. Elementary School: I spent the first week of my summer vacation on a four-day Caribbean Cruise with my 83-year-old mother. It was her first time ever on a cruise, first time ever leaving the United States, and first time leaving the south. Being able to give her that experience meant the world to me. She complained about the long lines to get on the ship, all the walking was a bit much for her but when she found her niche in the casino, all was good in her world. Let's just say her first cruise paid off!
Thank you to everyone who filled out the call for submissions. We enjoyed hearing about your travels. Make sure you check out the second round of vacation memories next week.