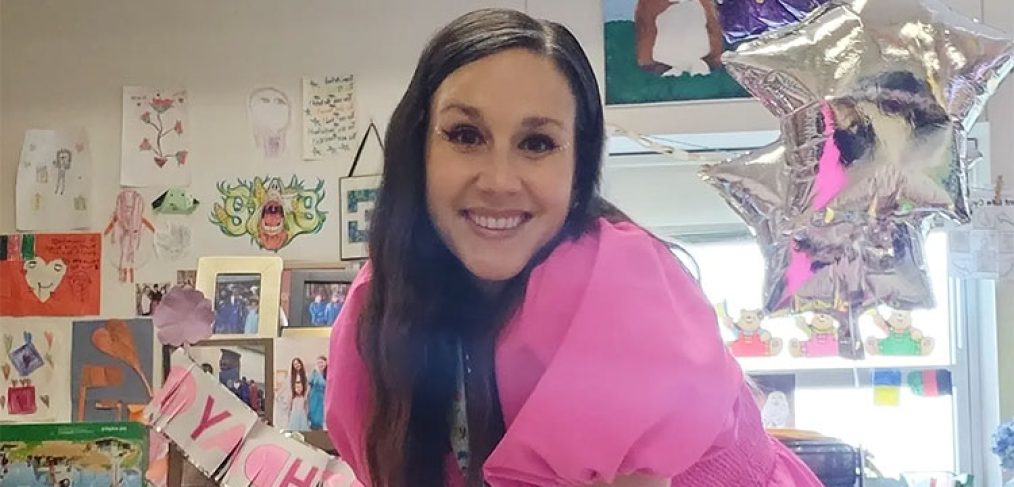 Core 4 Spotlight: ESL teacher uses her skills to help her students
A couple of years ago, Emily Reynosa, an English-as-a-second-language teacher at Lee A. McShan Jr. Elementary School welcomed a new student into her classroom almost every week. 
With about 45 students in the classroom, ranging from first to fifth grade, Reynosa relied on the Core 4 tenet of Flexible to do her best to make it work. Striving for the yes, she made adjustments like making extra copies and rearranging the classroom to make her students—newcomers to the country—feel more comfortable.
This past school year, she had fewer students, ranging from third through fifth grade, and a teacher assistant to provide additional support to her classroom. 
Reynosa always knew she wanted to go into a field where she was helping others. She had considered nursing, but decided the blood and the needles weren't for her—she chose teaching instead. She had been around educators all of her life because her mother had been a teacher and then a principal. 
"I wanted something where I could help people, and I ended up in the perfect spot, because newcomers are a vulnerable population, and they need a lot of support," Reynosa said. 
This past school year, she had a student from Ukraine who, Reynosa said, did well on a daily basis but would sometimes get sad and would say she wanted to go home. 
Reynosa would then pause class, and she and the other students would do activities to make the student feel better, like drawing pictures and talking about how they felt. 
The Friendly tenet is one that comes naturally to Reynosa. She says being friendly is crucial in helping meet the needs of her students and their families because she often helps connect families to resources. 
Parents regularly call her for help. For example, a parent sent her a picture of a prescription from a doctor because the family didn't understand it. There was a time when a family who was having a baby needed help with resources.  
"It is an emotional commitment because so many of the families are struggling so much and there is only so much you can do–but I'm happy to do it," Reynosa said. 
She will sometimes use social media as a tool to ask for help. She asks friends if they would like to donate diapers, or she will create a wish list on Amazon to help get her students' families what they need. 
She admits that it was not an easy road to get to where she is today. When she was doing her student teaching and was graduating in the fall of 2012, she knew it would be challenging to find a job because a lot of districts were not hiring in December. 
"So, I prayed and prayed and this job kind of just fell into my lap," she said.
Since reading is her main focus in the classroom, she provides incentives for students to reach their goals. For example, the first person who learned 300 words from the Fry Sight Words list, would have a party in the classroom to celebrate the accomplishment.
One of her students reached the 300 word goal before spring break, and Reynosa bought her a cake with her name on it. The class then celebrated and had a big party to honor the student. 
"From not speaking English at the beginning of the school year, to having students read 300 words or more is a huge milestone," Reynosa said. "The students learn and celebrate their accomplishments together. I do my best to provide a safe and welcoming environment, and I can give them the skills that they need to be successful."