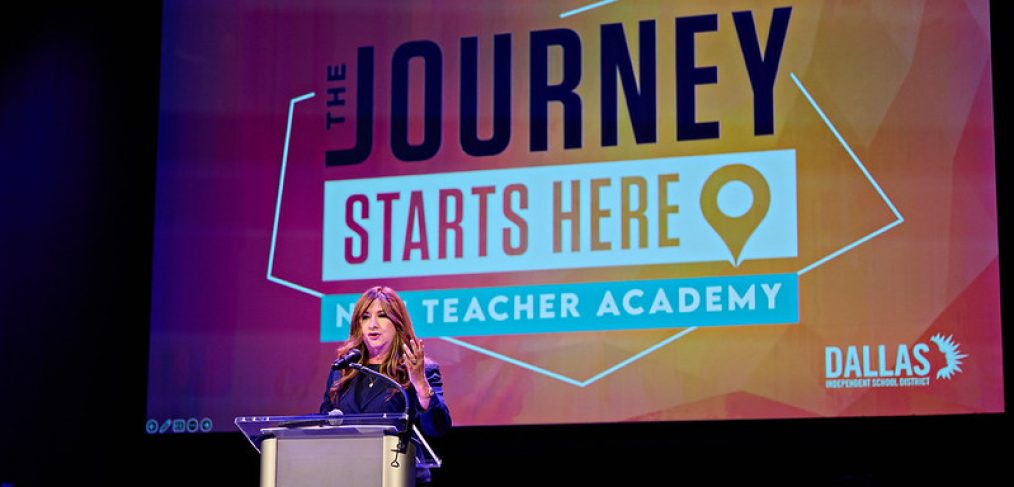 Dallas ISD welcomes 1,400 new teachers 
Wall to wall cheers could be heard  throughout the Winspear Opera House in downtown Dallas Wednesday morning, as Dallas ISD welcomed approximately 1,400 new teachers to the district in its New Teacher Academy. The incoming team members represent teachers who have teaching experience in other districts and novices who are starting their careers in the district. 
The morning session of the New Teacher Academy included a welcome by Superintendent Stephanie S. Elizalde, Ed.D., who shared some of her experiences when she began her career as an educator.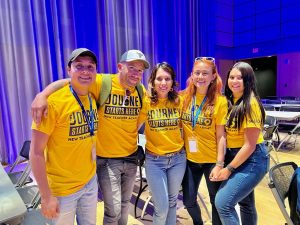 "I always remember my first year teaching and the challenges and choices that I faced," Elizalde said. "I could choose to say there was something wrong with my students when they were not doing well, or I could choose and pick up the mirror and say how can I get better."
"One of the choices allows me to be comfortable," she added. "The other one allows me to be empowered. It is a strength, not a weakness to say, 'This is how I can improve.'" 
Elizalde added that every student deserves a champion, and that every one of the incoming teachers deserves a champion, as well. 
"My job is to ensure that we provide you the support that you need—that we champion you—so that we can champion our students," she said.
Vanecia Brown, a teacher new to the district, was one of the attendees at the New Teacher Academy. An educator entering her seventh year of teaching, she is now the new physical education teacher at  Seagoville High School.
 "I'm really excited, and Dallas ISD has given plenty of opportunities for us to collaborate together and to be amongst other new teachers," Brown said. "To see how the district is growing and trying to be innovative in how we are educating our students is encouraging. Go Dallas ISD!"
Bianca Camacho, an incoming first-grade teacher at Clinton P. Russell Elementary School, shares the sentiment as Brown. 
"I'm really excited to be given this opportunity to work and grow at Dallas ISD," said Camacho, who is embarking on her sixth-year as an educator.
Presentations during the New teacher Academy took place in the morning, and the personal development training for new teachers continued during the afternoon. Among the presenters during the morning session were Dallas ISD Trustee Dan Micchiche and Dallas ISD's Choice/Magnet Schools Teacher of the Year Jonatan Cruz. 
The New Teacher Academy also included uplifting performances by local artists Will Richey and Alejandro Perez and their band Melody Memory, Dallas Poet Laureate Joaquin Zihuatanejo, the Blue Belles Dance Team from Wilmer-Hutchins High School,  and the Royal Elite dance team from Seagoville High School.
The interactive performances with Richey and Perez had the teachers clapping and singing, and repeating empowering phrases such as "We are together one tribe." Zihuatenjo presented his "A City is a Poem" poem with live music accompanied by Melody Memory, and a video that showcased various places and people in Dallas. The dance teams collaborated to share a high-energy performance that got the crowd energized. 
The keynote speaker of the event was author, motivational speaker, and educator Stephen Peters who talked about the impact that teachers had in helping him become a best-selling author. 
Throughout the challenges in life, he always remembered his middle school teacher who would tell him he was smart. He never forgot his teacher's voice, and asked the attendees "What will your students hear when they hear your voice?" He also told the educators that students are dependent on what they as teachers bring every day. He described their work as "hard work, that is also heart work."
Throughout the day, as attendees were in and out of sessions, the lobby of the Winspear included booths of different Dallas ISD departments and organizations who talked to the new team members about the different resources available to them, as they prepare to begin the new school year.