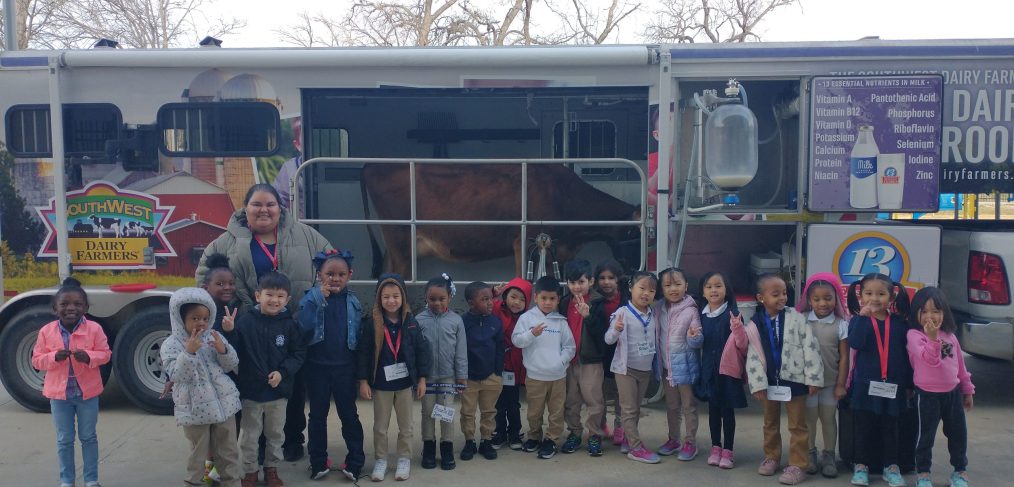 Pre-K teacher brings "field trips" into her classroom
Hailey Rangel, a prekindergarten teacher at Jill Stone Elementary School, is on a mission to bring "field trips" to her students, which includes interactive activities to not only engage them, but also make learning more meaningful. 
During the COVID-19 pandemic, field trips were restricted and schools had limited visitors. The expense of busing students to field trip locations even without the pandemic restrictions was also an obstacle.
So putting two and two together, Rangel decided to bring the learning opportunities of field trips to her school, instead. At the beginning of last school year, she did research for free on-campus activities students could participate in. 
"I built a list and invited different groups to visit the school, to give the students different opportunities to expand their learning," said Rangel. 
Josefina Rodriguez, assistant principal at Jill Stone, describes Rangel as a vital asset to the school who has gone above and beyond to bring her students different experiences that broaden their possibilities to learn. 
The activities that Rangel has brought to the school range in areas from science to the arts. For example, Rangel is responsible for starting the school garden and bringing a mobile dairy farm to the school. 
Invited guests have included representatives of the Dallas Museum of Art and City of Dallas staff members who talked to the students about the importance of water conservation. 
This past school year, students also had the opportunity to study ladybugs, butterflies, and worms that Rangel received from the district's Living Materials Center. 
One of Rangel's motivations is remembering her family making it a priority to expose her to enrichment activities when she was a kid. She remembers how meaningful it was to her in her development and love of learning. 
Rangel has fond memories of her mom taking her and neighborhood kids to museums and places like Chuck E. Cheese due to good grades in report cards.
"I just want to give those same opportunities to my students, who otherwise might not have them," Rangel said. "All students deserve to enjoy learning." 
One of the things that Rangel loves about being a pre-K teacher is knowing her students are eager to learn. 
"They love to learn different things. Someone just has to show them," Rangel said. She says that even seeing a little stem sprout from a tomato plant in the school's garden is exciting to the kids, who soak everything in, according to Rangel.
The seeds to become an educator were planted in Rangel's mind from the time she was a kid, as she comes from a family of educators– her mother, aunt and sister are all educators.
It was after graduating from college that Rangel found her calling. She was part of the National Civilian Community Corps from the AmeriCorps program, and one of her team's projects was working in a summer literacy program at an elementary school in Maryland. She was a teacher's assistant and was in charge of the garden. 
"I realized then that by being a teacher I could make a difference," said Rangel.  "I felt I could open up the students' minds and help to close learning gaps."
After Rangel returned from her assignment with AmeriCorps, she began working other jobs, which included being a substitute teacher. That's when she went through the district's alternative certification program to become a teacher. 
"Teaching is probably the first job I've had where I don't wake up in the morning and think 'oh my gosh, I don't want to go to work today,'" Rangel said. In fact, she loves teaching so much that she sees this as her career choice for the foreseeable future. 
Rangel's hopes for her students include them having the freedom to choose their own pathways in life. 
"If they want to be an astronaut or a farmer or anything they want to be, there's a pathway to that, and they can do it," Rangel said. "I'm just bringing them different opportunities. They just have to do a little bit of research, but the sky's the limit. They just have to keep trying until they reach their goals."