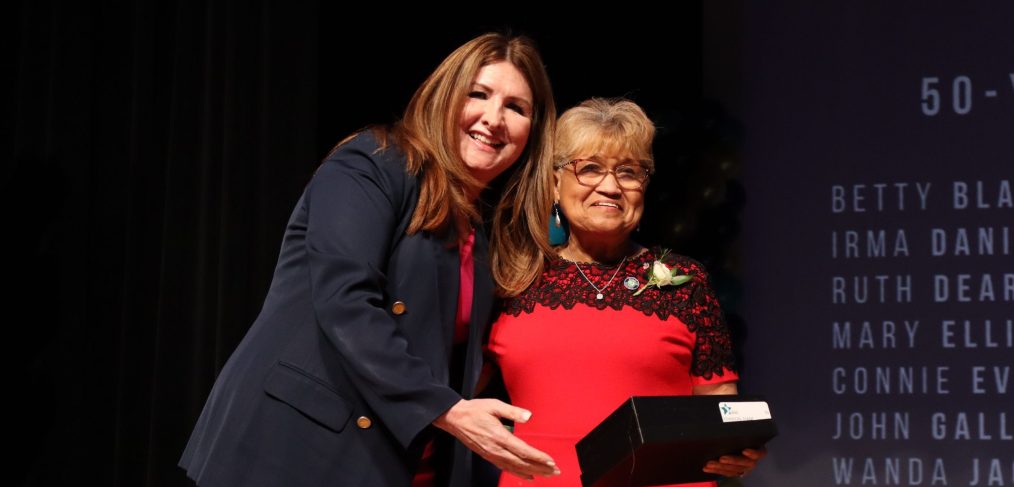 This Is Home: Celebrating 53 years in the district
Thousands of team members have called Dallas ISD home for years, even decades, and the district is recognizing their commitment to the community through the Service Recognition Award program. Skyline High School's Diane Johnson is among the recipients, proudly celebrating her 53rd year of service with Dallas ISD. 
Johnson started her teaching career in 1968 with a third-grade class at James A. Garfield Elementary School in Washington, D.C. After her husband completed his military duty, he returned to Bishop College in Dallas to finish his college career, and she moved with him. While working at Bishop College in accounts payable, she was encouraged by a professor at the college to apply for a teaching position in Dallas ISD.
In 1969, she began teaching at Boude Storey Middle School and was later transferred to W.W. Samuell High School. In 1971, she was required to resign because she was pregnant, but she returned to teaching at Dr. L.G. Pinkston Sr. High School in August 1972 as a teacher, coach, and sponsor of many other activities for 33 years. 
How have you seen the district change from when you started until now?  
I witnessed the deaths of Martin Luther King Jr. and Robert Kennedy and all the historical events of D.C. during this period. I personally met Robert Kennedy and some of his children. The events of this period shaped my passion for teaching, and to this day, I try to give my students the best that I have.
What has inspired you to continue calling Dallas ISD home? 
I start each year with this message, "If you want to make a difference, start with the man in the mirror," and end the year with, "Each one, teach one!" They are old cliches, but they work for me.
What is one of your favorite memories from your time in the district? 
While I was teaching at L.G. Pinkston, I met a student who was in my homeroom for four years. After the student graduated in 1976, the student started sending me a Mother's Day card until 2004, when the student started sending a bouquet of flowers and has kept sending flowers to this day. 
I never knew why or what I did or said that was worthy of these accolades. But it reminds me, as a teacher, I must always be careful about what I say or do in the presence of students. As a teacher, you can never know what may touch the life of a student.