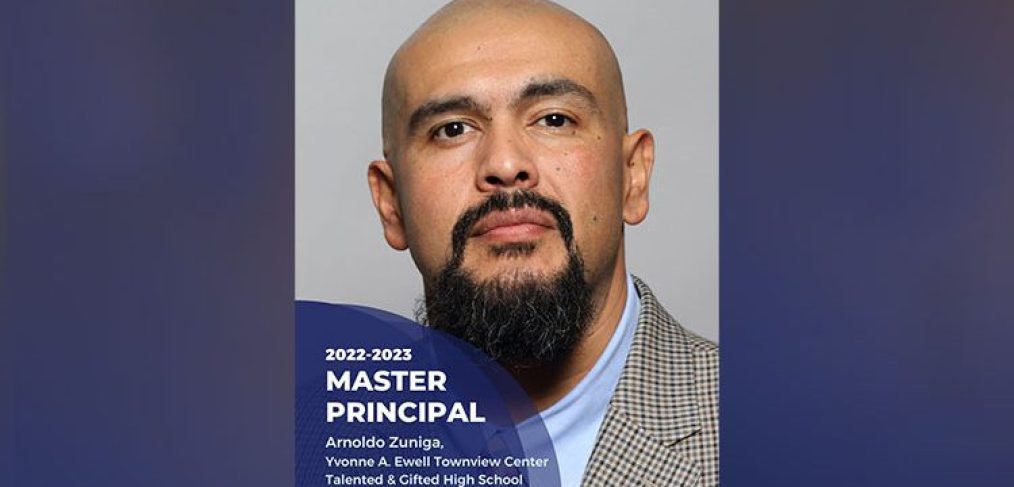 Meet Master Principal Arnoldo Zuñiga
Arnoldo Zuñiga, the principal at the School for the Talented and Gifted at Yvonne A. Ewell Townview Center, has worked in education for 19 years. Originally from El Paso, Texas, he decided to apply for Dallas ISD's Alternative Certification Program in 2004 to fill the need for bilingual teachers and has been in the district ever since. 
Zuñiga has gone above and beyond to transform student lives ever since and recently joined more than 20 Dallas ISD principals in being awarded the Master Principal designation for the 2022-2023 school year. 
The awards are part of the Theory of Action, which governs how Dallas ISD makes decisions that ultimately impact student achievement. The criteria used are the School Effectiveness Index, State of Texas Assessments of Academic Readiness/EOC Domain 1, and campus climate data. Zuñiga said he was honored to be recognized and appreciates the opportunities he has received to help students graduate college and career ready.
What drew you to education? 
I always had the desire to teach, so when I saw the ad for the Dallas ISD Alternative Certification Program, I knew it was time for me to start my career as a teacher to give back and help students that came from the same backgrounds as myself.
What qualities make a great principal? 
Developing relationships with students, parents, team members, and the entire school community is crucial to success. Principals also need a commitment to achieving performance outcomes for all students regardless of background and advocating for student equity.
What is your educational philosophy or a motto by which you work? 
A good leader takes a little more of his share of the blame and a little less of his share of the credit.
What inspires you about your position? 
I have always been inspired by watching students graduate, not only from high school, but from college as well, and knowing I had a small part in their success.