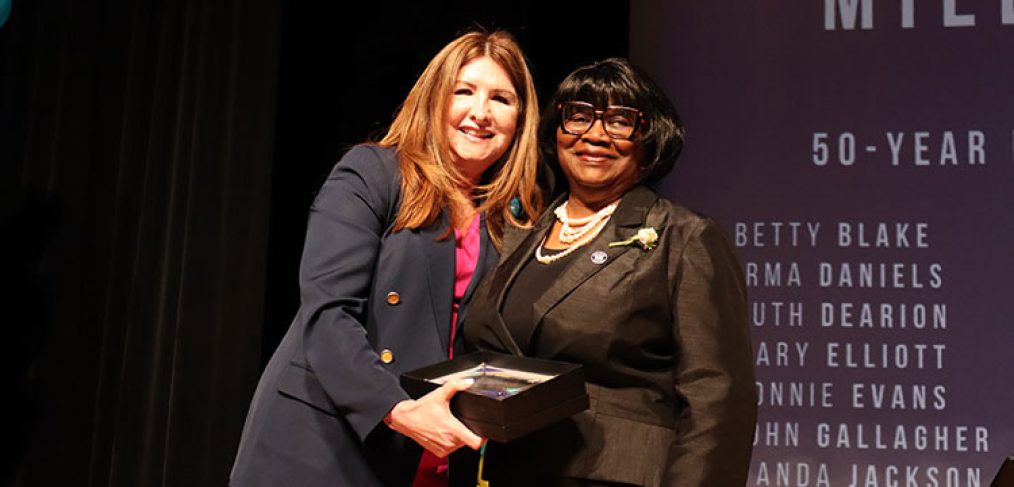 This Is Home: Transforming student lives through 55 years of service
Betty Glover, a talented and gifted teacher at Clara Oliver Elementary School, has dedicated 55 years to teaching in Dallas ISD, and she said she has loved every minute of transforming student lives and making memorable moments.  
Glover, who is originally from Marlin, Texas, and graduated from Texas Southern University in  Houston, moved to Dallas in the spring and got her first job in education as a substitute teacher. She worked as a fourth-grade teacher for about 12 years, and later became one of the first teachers in the Talented and Gifted Program in Dallas ISD. She even retired one month, only to return to teaching TAG at Judge Louis A. Bedford, Jr. Law Academy (previously Atwell), Lenore Kirk Hall Personalized Learning Academy in Oak Cliff, and at Oliver once again.
"My favorite memories are when I get a chance to see my students," Glover said. "I have students from my first year teaching who still keep up with me and many from the TAG classes who call me often. I know about their successes and their families. Some of them are doctors and lawyers, and some became educators working here in the district."
Over the years, Glover has seen many changes in Dallas ISD, including curriculum shifts and a focus on supporting students in small group settings. She has adapted to every change, leaving a legacy in her wake by mentoring countless teachers and even winning the district's Teacher of the Year award in 1999. 
She also has a long history of volunteering service hours, including supporting an award-winning Elementary United Nations Program. The program's goal was to take students to the next level through researching different resources, writing resolutions, and generally advancing their academic levels. She has volunteered as the sponsor of Odyssey of the Mind, Destination Imagination, the MLK Jr. Oratory Competition co-sponsored by Foley & Lardner LLP,  math contests, UIL, student council, and many more student programs for many years when  stipends were not given. It is her philosophy that education includes more than just reading, math, and writing. 
"The majority of those kids looked like me," Glover said. "I think some people were surprised to see that when you push students to the best of their ability, they will excel way beyond their own expectations." 
During her formative years, she credits Dallas ISD with providing excellent training to incoming teachers with an emphasis on curriculum mastery and teaching reading, which enabled Glover and other educators to accelerate their students' learning. 
Her advice for new teachers is simple: "Take what you already know and add to it, and don't be afraid to ask for help. If you see someone who knows something you cannot do, ask them for help, and find the people on campus that you admire for their successes in teaching and let that be your goal."
While Glover understands that teaching can be challenging and requires dedication, patience, and passion, she wants everyone to know that it is all worthwhile.  
"I just love helping people, I really do," Glover said. "I have a love for children and a passion for service, so that's the number one thing. I really believe in giving people the best that I have to offer. The joy of my profession is that my daughter, Stephanie Smith, is also a career teacher with Dallas ISD."