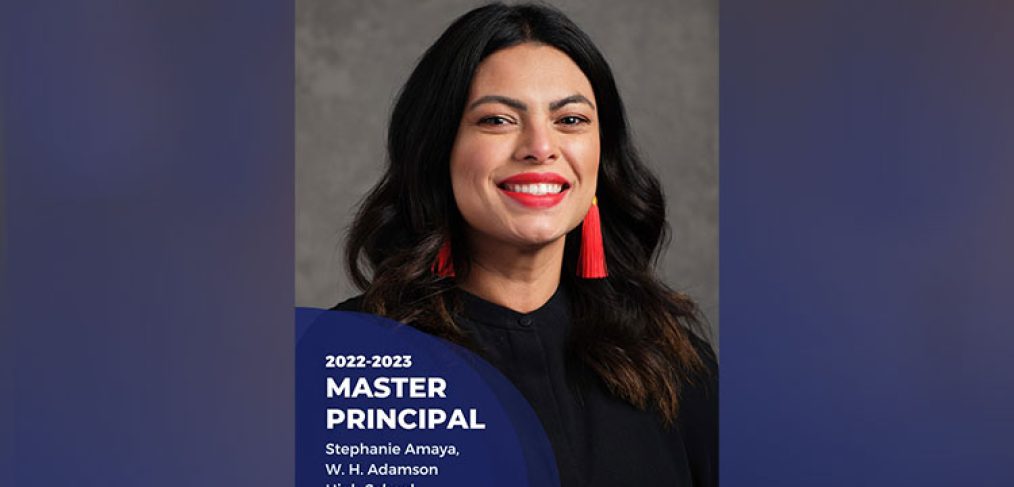 Meet Master Principal Stephanie Amaya
W.H. Adamson High School Principal Stephanie Amaya has called Dallas ISD home for many years. Not only is she from Dallas and a proud product of Dallas ISD, but she has also been working in education since 2009 and has spent her entire career with the district, with the exception of one year.
She began her career at Stevens Park Elementary School as a bilingual kindergarten teacher and soon moved into leadership positions to continue transforming student lives. Prior to serving the community at W.H. Adamson High School, she served as principal at John Neely Bryan Elementary and the renamed Sylvia Mendez CREW Leadership Academy due to her track record with turnaround schools and increasing academic achievement.
Her deep commitment and dedication to the people and communities she is a part of contributed to her being awarded the Master Principal designation for the 2022-2023 school year. These designations are awarded annually to the top 10 percent of Dallas ISD principals, and Amaya said it is an honor to be among them.
What drew you to education? 
I grew up in poverty as an emergent bilingual, and through teachers who believed in me, I knew education was a way to live bigger dreams than I ever thought possible. 
What qualities make a great principal? 
Compassion, empathy, and support are crucial to a principal's effectiveness and success. 
What is your educational philosophy or a motto by which you work? 
I believe in the words of Dr. Martin Luther King Jr., "The function of education is to teach one to think intensively and to think critically. Intelligence plus character—that is the goal of true education." 
What inspires you about your position? 
Our teachers inspire me. They take so much on to help support our students. Seeing them give it all they have makes the rest of us work harder!