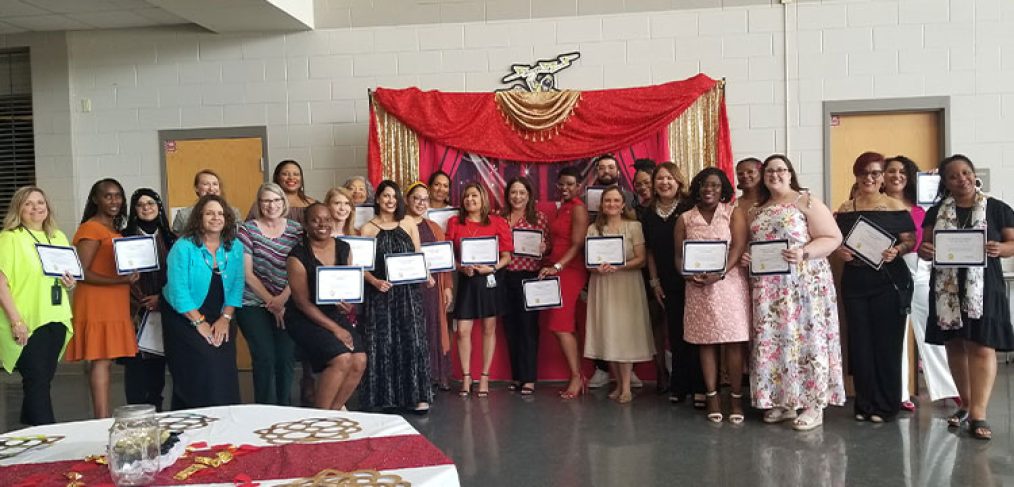 Accelerating student success through Dyslexia Services
When Veronica Allen, director of Section 504 and Dyslexia Services, first became a dyslexia bilingual evaluator in Dallas ISD 15 years ago, the district did not have any dyslexia interventionists. Now, Allen is proud to say the department includes over 200 dyslexia interventionists and dyslexia evaluators thanks to their drive to develop leaders in the district. 
The entire team recently came together to celebrate the department's growth and team members' many accomplishments, including 149 currently employed certified Wilson dyslexia practitioners and 49 currently employed certified Wilson dyslexia therapists who have earned their certifications over the past few years due to the dyslexia interventionist expansion.
Allen said their impact on student success is clear, with about 6,300 students served by a dyslexia interventionist during the 2022-2023 school year.
"It's very hard to find certified practitioners—therapists—when it comes to dyslexia," Allen said. "That's why we decided we were going to have to grow our own."
Dallas ISD has also supported Dyslexia Services by the continuous partnership with SMU with the Learning Therapy Cohort to encourage team members to pursue their academic language practitioner certification. Due to the success of this partnership, Certified Academic Language Practitioners (CALPs) and Certified Academic Language Therapists (CALTs) were also individually recognized.
At the same time, Dyslexia Services has been creating a pipeline of in-house Wilson dyslexia trainers who are trained by Wilson Reading System, which Allen said is significant because they are experiencing less program turnover and more consistent outcomes. The team has also grown several educational diagnosticians on the dyslexia evaluation side to support Single Pathway dyslexia evaluations. 
"The growth all around has just been unbelievable," Allen said. "Our students receive intense intervention for 180 minutes a week, and it's because of that intervention and teaching students an Orton-Gillingham approach that we are seeing improvement."
The department's push to develop individual skill sets and pursue team member certifications has resulted in more employees being able to step into supervisory roles and earn promotions, which has contributed to the improved student support and outcomes. 
"We went all out to celebrate these years of progress," Allen said. "It's hard work, especially at the practitioner level and the therapist level. We wanted them to be recognized and to know that their hard work is visible and appreciated."