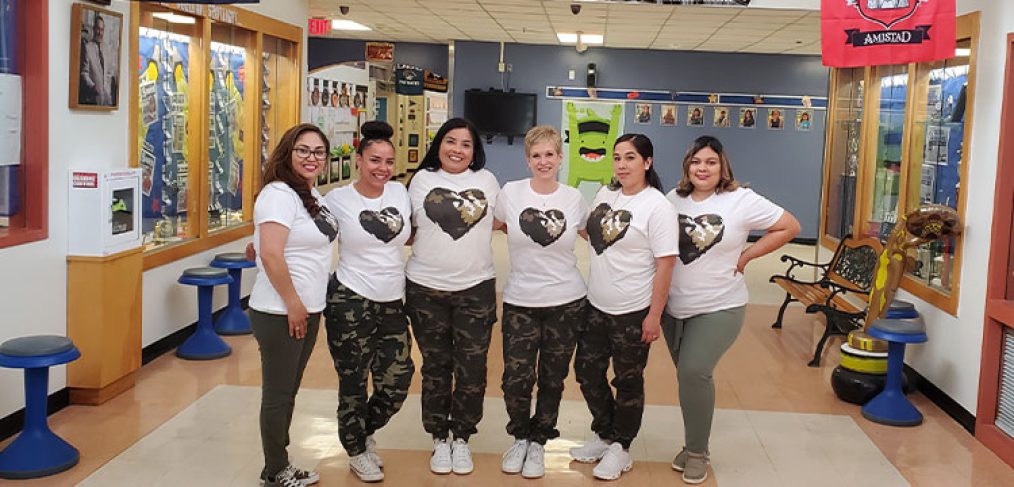 Core 4 Spotlight: Office team members at Gilbert Cuellar Sr Elementary School
Teamwork, unity, and creating a welcoming culture take a front seat at Gilbert Cuellar Sr Elementary School. Shelley Baxter, principal at Cuellar, says office team members take pride in making sure that every person, student and team member is going to feel welcomed at the school. 
Baxter says that when you hear "Welcome to Cuellar" after you ring the doorbell, it means something.
 "I want to make sure parents feel great about sending their students to Cuellar, because they are part of their family as well," she said.  
She says they are simply treating parents the way they would want to be treated. "We practice the district's Core 4 culture of focused, fast, flexible, and friendly, not because it's a rule, but because it's the right thing to do," said Baxter. "Parents know we genuinely listen when we address their needs."
That message of "family" is not only shared with parents through a welcoming office team, but within the team itself. In fact, they follow a motto called T.E.A.M., an acronym for Together Everyone Achieves More. The office team consists of office manager Andrea Garza, CRC Rebecca Cruz, clerk Nathalia Hernandez, clerk Valerie Rodriguez, and clerk Jasmine Aguirre.
Besides excellent customer service that focuses on equitable outcomes for students and families, Baxter says that each team member brings something unique to the table and uplift each other. 
"Ms. Garza is the mother hen who keeps us all on track and focused, Ms. Cruz keeps us all organized, Ms. Hernandez makes sure everything is done in a timely manner by keeping up with the calendar, and Ms. Aguirre is the sunshine who keeps us smiling," Baxter said. 
The office team members agree that the level of camaraderie at the school is part of the reason why Cuellar is such a welcoming and friendly place to work.
"If one person needs another, we are there for one another," said Baxter. "We cry together, laugh together, we support each other, and work together, and it's a genuine love that we have for each other."
Baxter says that her office team members, who are all Dallas ISD graduates, are happy that what they do has an impact on the school, students, and families. 
"Our parents are the reason we're here and the love we feel for our parents is a trickle down effect," said Baxter. 
Cruz, the school's CRC in charge of attendance, registration and enrollment, says what she enjoys most about her job is the special bond and connection that she makes working with the students' families. 
"When you establish a rapport with the parents, they feel comfortable coming to you when they have challenges," said Cruz, who has worked for the district a total of 22 years, seven of which have been at Cuellar. 
Aguirre, who is described as the "sunshine" of the group by her colleagues, says that working in the office allows you to work with parents, students and teachers, which is one of the aspects she enjoys most about this role. 
"I have the best position because you're not limited to who you are able to work with," she said.
She also credits her colleagues for helping her youngest child, who started pre-kinder last year, further develop his social skills. 
"These wonderful ladies have helped him grow as a person. The way my child has changed because of these amazing colleagues has been a memorable year for me," Aguirre said.
"Transforming lives through this work. That's the goal at the end of the day," Baxter said.