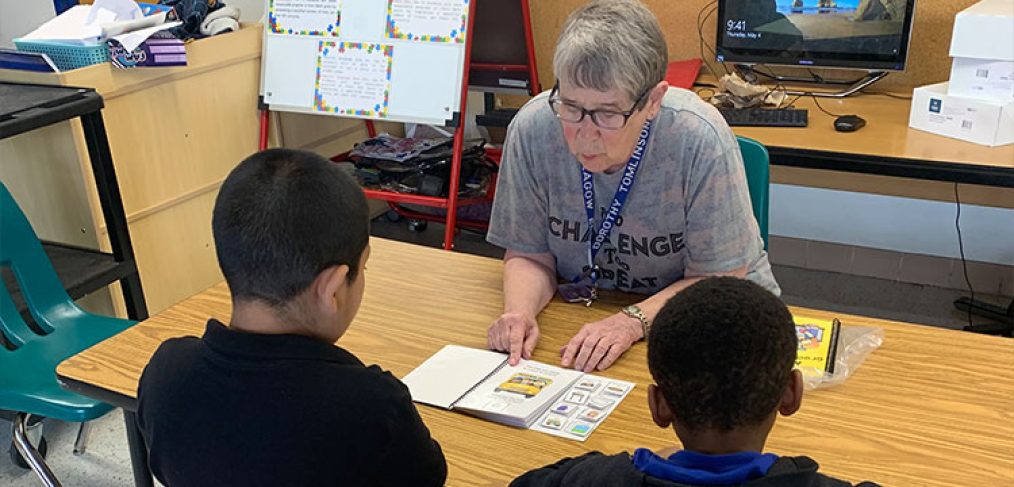 This Is Home: Speech therapist calls Dallas ISD home for 55 years and counting
Dorothy Tomlinson has called Dallas ISD home for the past 55 years, first as a special education teacher for over 20 years and now as a speech therapist at Richard Lagow Elementary School. She said she loves nothing more than transforming student lives by removing any barriers that may be in their paths. 
Currently, she works part time with 3-year-old students who have trouble communicating. One student in particular was only speaking one or two words at a time, but Tomlinson stayed focused on providing support and recently saw a breakthrough. She said the two of them made good eye contact at the end of a session one day. When she called his name and said goodbye, his response blew her away. 
"He looked at me and said, 'Goodbye, grandma,'" Tomlinson said. "I was in tears, and so was his classroom teacher because he put words together and he expressed a whole thought. Now, a few weeks later, it's like the floodgates are open. He is talking all the time, and it's just amazing." 
Tomlinson has experienced many changes during her time at Dallas ISD, but she said the best ones she has witnessed are the services provided to children with special needs. When she started out as a teacher, she did not have any students with special needs in her classrooms, as they were typically enrolled in United Way schools. 
"Now our schools have these students, and they interact and they're included," Tomlinson said. "That is a very wonderful experience to have been a part of and to see. Once those doors are opened, the changes we see in our kids are absolutely incredible."
Tomlinson has no intention of retiring anytime soon, but her legacy will carry on long after she does retire thanks to the influence she has had on her family. She has a grandchild who is going into education now, another grandchild who is pursuing psychology with a goal of using it in a school district, a daughter-in-law who is a speech pathologist, and another daughter-in-law who taught for many years, and she said she is proud to be part of a "family of educators." 
"There are so many wonderful experiences, and I think we as teachers—no matter where we are or what we're teaching—have such wonderful opportunities to touch the lives of kids in ways that nobody else does," Tomlinson said. "So yes, I've done it for a very long time, and I just told my department that I'm coming back next year. I'll keep doing it as long as I feel like I'm making a difference."
For Tomlinson, that difference has always come back to giving her students the "gift of communication" and empowering them to live their lives to the fullest.
"My husband can always tell when I've had a fantastic day because I come in and I'm smiling and I'm very happy," Tomlinson said. "He will say, 'What did this student do? I know somebody did something fantastic with speech,' and that's very true. It's a natural high. You're very euphoric when you see incredible changes in these kids."