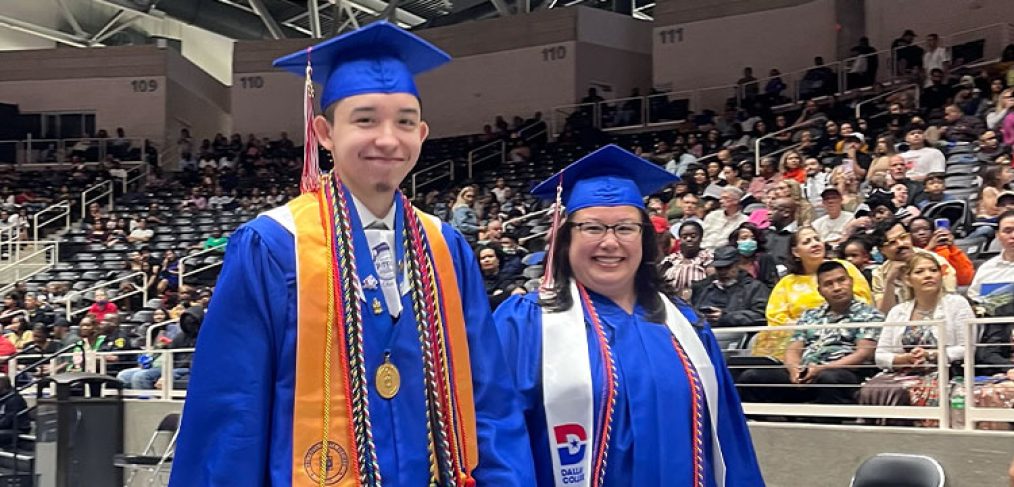 Mother and son receive degrees together
Every spring, graduation is a rite of passage for many, and this year, one graduation was special—a mother and son graduated together with associate degrees. 
Esmeralda Landa-Soch, office manager at Dr. Wright L. Lassiter Jr. Early College High School at El Centro and her son Elijah Soch, a student at the high school, graduated from Dallas College on May 12. 
"I was so happy when our names were called to go up there, especially with my mom, because that experience was amazing. As we walked up to receive our diplomas, I could just feel my heart," Elijah said. 
Esmeralda describes the day as emotional because they had entered the program together, and had now reached the pinnacle—graduating—together. 
The journey to earn an associate degree began when Elijah was in middle school and was thinking about his options for high school. When he told his mother that he wanted to attend Lassiter Early College High School, she encouraged him to apply. That's what gave Esmeralda the motivation to go back to school and go for her degree alongside her son at the Dallas College campus at El Centro, where Lassiter is housed. It was not an easy process. 
"My mom just kept telling me that I just had to push through and do it," Elijah said. "Even if I messed up on my assignment, I needed to keep pushing through and come up with a solution like going to tutoring, and trying to figure out what I did wrong, to fix my mistakes and then learn from them to do better next time."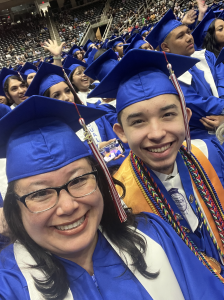 While Landa-Soch graduated with an associate degree in education, Elijah graduated with a degree in science and plans to continue his studies at Texas State University in the fall. She plans to put her degree to good use by ultimately teaching American Sign Language to high school students. 
Sign language is something deeply personal to both Esmeralda and Elijah, whose father is deaf. At the end of the year senior luncheon, Elijah presented a heartfelt message to his family in English and then in sign language. To see the video, click here. 
Landa-Soch learned sign language years ago as a way to communicate with a cousin who was deaf, and it enabled her to communicate with the person who would become her husband and Elijah's dad. 
"It makes me very proud that my son knows that language. It's his first language," she said.
The school, community and principal couldn't be prouder of the two graduates. Laura Landry, Lassiter principal, believes that higher education changes everyone's outcomes and is proud that one of her team members is embodying the mission.
"Mrs. Landa-Soch is not only exemplifying our organization's values, but she's also showing the kids first hand what can be done," Landry said. "She's leading from the front, and we love that." 
Throughout the experience, Landa-Soch and her son motivated each other to keep going no matter the challenges. There was a piece of advice she held onto that helped her get through challenging moments.
"A former colleague told me to take a class every semester, and that before I knew it, I was going to be done," she said. "It was very valuable advice." 
Although their studies will take mother and son on different career paths, they are both thankful to have had this opportunity to help each other. 
"It's always so exciting to see someone achieving an accomplishment like this that changes lives," Landry said. "You can't help but have such a sense of pride. And just the joy on their face, between Elijah and his mom, was really special."