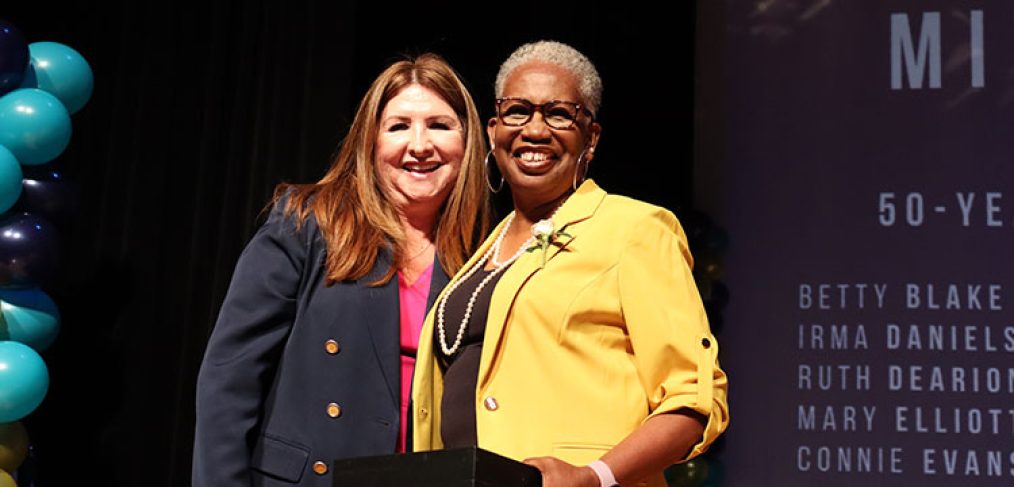 This Is Home: Reflecting on 53 years in Dallas ISD 
Thousands of team members have called Dallas ISD home for years, even decades, and the district is recognizing their commitment to the community through the Service Recognition Award program. Beverly Tillmon, a campus instructional coach at Personalized Learning Academy at Highland Meadows, is one of those being recognized for her long-time service—53 years. 
After graduating from the University of North Texas in 1969 with a degree in elementary education, Tillmon began her teaching career in Dallas ISD at Elisha M. Pease Elementary School as a fourth-grade math teacher. 
She said Dallas ISD was a "natural choice" because of her family's historical ties to the city of Dallas. In fact, L.G. Pinkston and Lee A. McShan—for whom district schools are named—were the attending physicians at her birth in 1948 at Pinkston's Clinic in North Dallas. 
In her years with Dallas ISD, Tillmon has served as a fourth-grade math teacher, a fourth-grade science teacher, a third- to fifth-grade interventionist, a kindergarten to fifth-grade interventionist, a new teacher mentor, and a math instructional coach. 
Tillmon said she is proud of her time in Dallas ISD and shared some of her memories and experiences. 
How have you seen the district change from when you started until now?  
When I came to the district in 1969, there was segregation for teachers and students. Shortly after, in 1971, it moved from a segregated district to a desegregated district. I have seen many strides in efforts to equip all teachers, students, and parents with tools and opportunities to achieve the optimum benefits from being Dallas ISD stakeholders.
What has inspired you to continue calling Dallas ISD home? 
Calling a place home makes me think of family. Throughout the years, I have made so many friends and lifelong relationships with administrators, teachers, parents, and students that it feels like home each day I come to work. I have been blessed to have had the opportunity to teach children of former students as well as work alongside former students as coworkers. Before I knew it, days became weeks, weeks became months, and months became years!
What is one of your favorite memories from your time in the district? 
Being a part of a family legacy of Dallas ISD educators is one of my favorite memories. My mother, aunt, and sister were Dallas ISD educators for several decades. At the present time, my daughter is also a proud Dallas ISD educator.