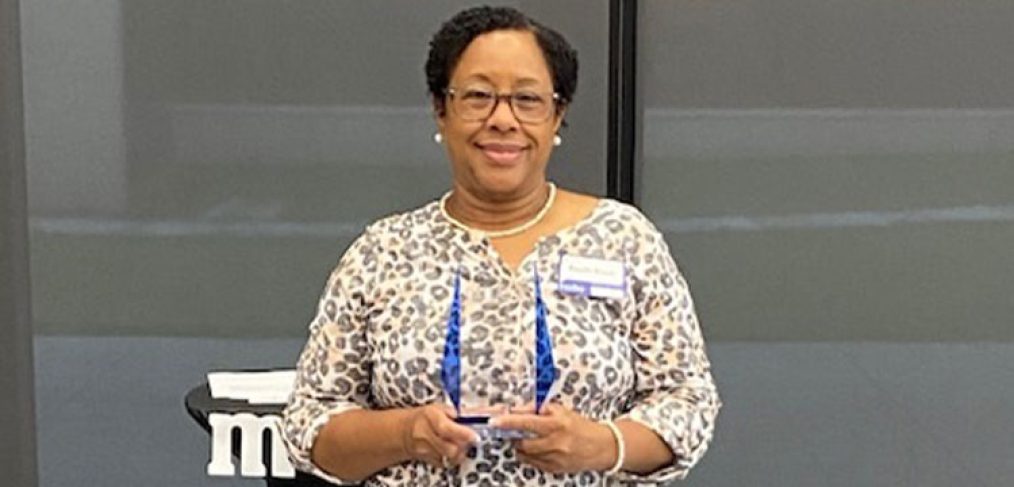 Outstanding nurses are recognized
"You are marvelous and magnificent" was the theme for this year's Health Services end-of-year celebration, which recognized the 200 nurses and nurse aides for their daily contributions to keeping students healthy in the district. The event, which recognized both central and campus level team members, was the first in-person celebration for the department since COVID.  
The celebration—which took place on School Nurse Day, May 10, at Thomas Jefferson High School—included a special performance from the Liberty Belles, the school's dance team. 
One of the highlights of the event was the presentation of the Employee of the Year Award and the Lifetime Achievement Award, which went to Annette Brown, who was recognized for her 35 years of service and received a special pin. Celeste Boudreaux, area lead nurse, described Brown as the epitome of the district's Core 4 culture tenets.  
"She is focused, as she is a wealth of knowledge and an expert on district procedures and resources," Boudreaux said. "She is fast to complete any task put in front of her. She is flexible because she can adjust to anything that comes her way, and she is friendly, because she is one of the most genuine and kind persons you'll ever meet."
Pauline Arnold, a nurse at William M. Anderson Elementary School, won the Best in Show Telehealth Award. Arnold had conducted over 100 telehealth visits, which are virtual office visits.
"These recognitions are to honor the invaluable services that nurses provide district-wide," said Erika Alvarez, a nursing supervisor. "Healthy kids learn better. It's so important for kids to have access to the school nurse, who will help them be proactive in their health." 
Rosa Guerrero, a nursing supervisor, says she is happy they were able to organize this in-person end-of-year celebration, as nurses bring an abundance of knowledge and play multiple roles such as case-managing and helping families obtain resources such  as glasses or hearing aids for their children.