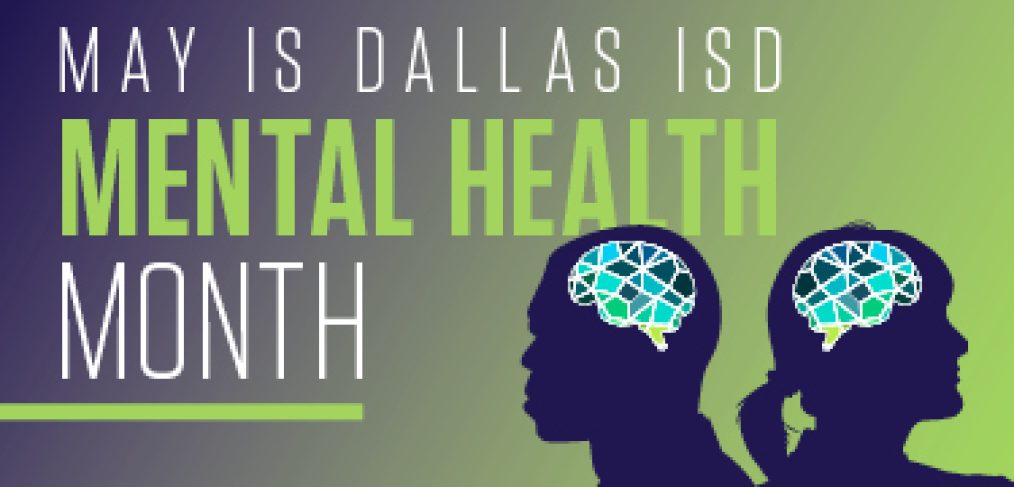 15 ways to practice mental wellness
Dallas ISD is observing Mental Health Awareness Month throughout May to highlight the importance of maintaining one's overall health and well-being.
Check out these 15 recommendations from Mental Health America to prioritize mental health in your everyday life, and remember that you are more than enough:
Make time to get some sunlight. If you cannot get outside, use a daylight lamp or a blue light lamp when you spend all day indoors.

Create a space to highlight your favorite things. You can include pictures of people or things you love, textures that bring you joy, or your favorite color.

Remember the mind-body connection by prioritizing movement. Find a good place to stretch, practice yoga, or do other exercises from the comfort of your own home.

Spend time with the people you care about. If you are not able to meet in person, build online communities or pick up the phone. 

Build a collection of affirmations or notes that you can look at throughout your day. These could go in your home or car to serve as regular reminders.

Play music or listen to a podcast or audiobook instead of watching TV when you are trying to relax at home.

Do some spring cleaning to remove clutter and benefit your mental health. Focus on getting rid of any objects that may trigger negative thoughts or habits.

Focus on the good in life! Put pictures of loved ones or pets in places that are easy to see to increase positive thoughts and feelings throughout the day.

Feeling overwhelmed by regular chores? Set a timer and clean what you can in 10 minutes. Doing this regularly will help you maintain your space in a stress-free way.

Stop and get some fresh air. Studies show that being surrounded by nature is a mood booster. You can also add plants to your space to improve air quality and cognitive functioning.

Relax by reading a good book. Reading can help people get out of their heads and relieve stress and tension. 

Be kind. Studies show that random acts of kindness increase release of oxytocin, the "feel good" hormone. It can be something as small as holding the door for someone or buying a stranger coffee. 

Incorporate more activity to decrease tension and improve sleep. Take the stairs instead of the elevator, or park your car farther away from the store. 

Bring your favorite colors into your home. If you can't paint your walls, use art, pillows, blankets, or curtains to add joy to your day.

Prepare workday meals or pick out your work clothes the night before. The practice will save you some time each day and start your morning with a feeling of control.
Team members can also take advantage of Mental Health Services' Mental Health Month Toolkit, where they have provided activities and resources to raise awareness about mental health. 
Feel free to click on the links, download the articles, videos, and more and use them with your students, family members, or for yourself. Mental Health Services is encouraging every member of the Dallas ISD family to look within and embrace all of who you are. 
Dallas ISD's Employee Assistance Program
If you need additional support, all district employees have access to Dallas ISD's Employee Assistance Program by LifeWorks. The May Mental Health Awareness Month campaign is focusing on the Employee Assistance Program (EAP), which is free for employees, 100 percent confidential, and available to all employees and their dependents. 
Sessions through the EAP are available by phone, virtual, and in person. Employees can also find tips, articles, self-assessments, and topical features focusing on specific EAP resources available through the EAP smart App.
To start on your wellness journey please visit dallasisd.lifeworks.com and follow these instructions:
Select 'Sign up' in the top right-hand corner of the page.

Alternatively, you can download the free LifeWorks mobile app from the Apple App Store or Google Play Store on your smartphone and enter the invitation code in the 'Sign up' section. 
If you have already registered, you can download the free LifeWorks mobile app from the Apple App Store or Google Play Store on your smartphone and press 'Log In'. You can also visit LifeWorks on one of the supported browsers (Firefox, Safari, Google Chrome, or Edge) and log in.
If you need additional support, reach out to EAP by calling 972-925-4000 and selecting option 3 for EAP. You are more than enough!