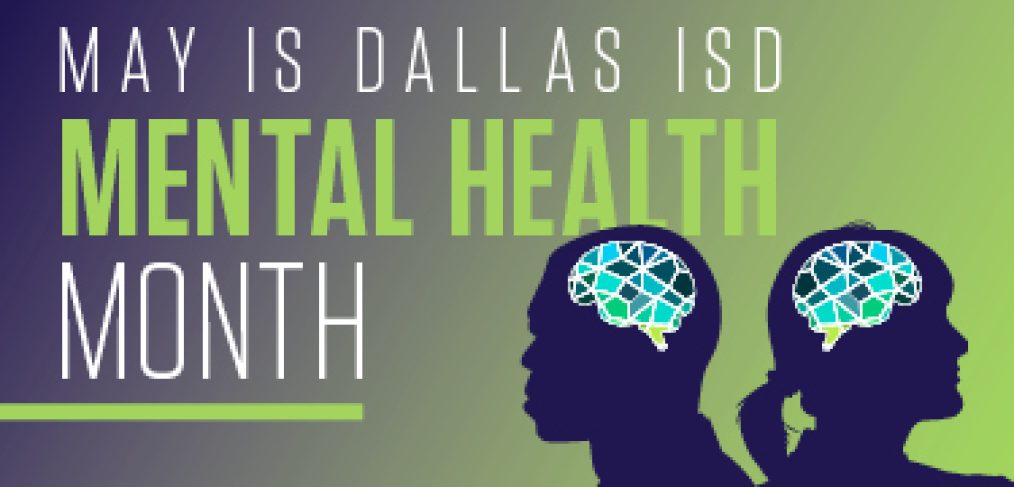 When is the time to get help?
Life is full of ups and downs and stressful situations. It is important to remember that waiting to feel like something is wrong is not the only time to get help and talk to someone. In honor of Mental Health Awareness Month, Dallas ISD's Mental Health Services is sharing ways you can assess how your body feels to gain insight into your mental well-being.
Did you know the body can create physical symptoms that act as red flags to let a person know they may need help?
If you are experiencing any of the following, it may be time to ask for help:
Excessive fear or worrying

Constantly feeling sad or low

Trouble concentrating, thinking, or learning

Extreme mood changes

Feeling irritable or angry for longer than usual

Dramatic changes in eating habits such as increased hunger or lack of appetite

Dramatic change in sleeping habits, oversleeping, or not being able to sleep at all

Having thoughts of self-harm or suicide

Feeling excessively tired or low energy
If you or someone you know is experiencing any or all of these symptoms, it may be time to get help from a trusted person, counselor, or mental health professional.
Dallas ISD's Employee Assistance Program
Dallas ISD is committed to the four pillars of its wellness program—health and wellness, mental health, social health, and financial health. Mental Health Awareness Month is a great time to focus attention on the resources available to district employees to ensure their mental and emotional well-being.
The May Mental Health Awareness Month campaign is focusing on the Employee Assistance Program (EAP), which is free for employees, 100 percent confidential, and available to all employees and their dependents. 
Sessions through the EAP are available by phone, virtual, and in person. Employees can also find tips, articles, self-assessments, and topical features focusing on specific EAP resources available through the EAP smart App.
To start on your wellness journey please visit dallasisd.lifeworks.com and follow these instructions:
Select 'Sign up' in the top right-hand corner of the page.

Alternatively, you can download the free LifeWorks mobile app from the Apple App Store or Google Play Store on your smartphone and enter the invitation code in the 'Sign up' section. 
If you have already registered, you can download the free LifeWorks mobile app from the Apple App Store or Google Play Store on your smartphone and press 'Log In'. You can also visit LifeWorks on one of the supported browsers (Firefox, Safari, Google Chrome, or Edge) and log in.
If you need additional support, reach out to EAP by calling 972-925-4000 and selecting option 3 for EAP. And remember, you are more than enough! 
You matter, and so does your mental health and well-being. Take some time to reflect on how you are doing, and prioritize yourself and your needs. And remember: You are more than enough.