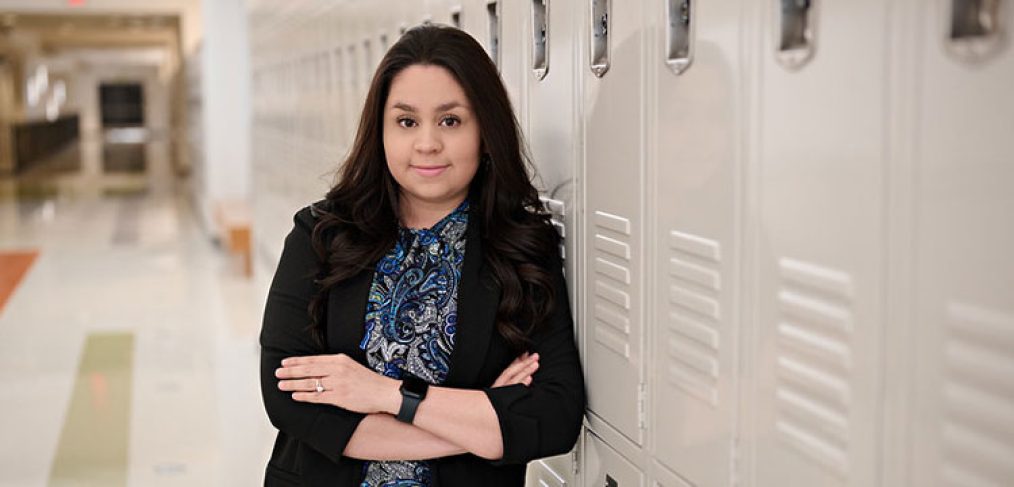 Putting positivity at the forefront
Sujehy Arredondo grew up in El Paso, Texas, where she had a teacher who changed the course of her life. She said her sixth grade teacher, Mr. Salcido, treated her and her classmates like "mini adults" and served as a role model for them. As Arredondo was entering the workplace, originally in public health, she realized her true passion was transforming the lives of middle school students as her teacher had done for her. 
Arredondo has been in the classroom for five years, and the Hector P. Garcia Middle School sixth grade math teacher is achieving her dream of giving back to students and her community. 
"Every year I get above 90 percent on my student surveys because I build those relationships with my students," Arredondo said. "I always remember how Mr. Salcido treated us, what he did for us, the stories and experiences that he would share. I wanted to share my experiences with my kids, too, and here I am telling those stories."
Her passion for making memorable moments and setting her students up for success led to positive results when she became the 2020-2021 Campus Teacher of the Year at Seagoville Middle School as a second-year teacher. She credits her accomplishment to being a go-getter and always prioritizing her students.
"Every time that I would receive feedback, I would take it as, 'This is an opportunity to grow,'" Arredondo said. "I'm always open to constructive feedback. I welcome others to observe my classes, and every single test that we take, I analyze and ask, 'What is our next step after this?' I am always thinking ahead."
Gabrielle Paulo, who taught alongside Arredondo at Seagoville Middle School, saw Arredondo in action and said she was impressed by the commitment and leadership Arredondo brought to the forefront of their campus. 
"Ms. Arredondo goes above and beyond not just for the students, but the teachers as well," Paulo said. "She is a wealth of knowledge about data and uses that to help everyone bring scores where they should be. She won teacher of the year her second year teaching ever because her scores and data were so good. She then became team lead and brought the entire department up."
As a member of the Hector P. Garcia community, Arredondo has continued to lead by example as a member of her campus' Language Proficiency Assessment Committee and Sunshine Committee and as a mentor teacher. 
"I always try to come to school with a positive attitude, and that makes a difference," Arredondo said. "We get to see our kids, our students, and they're excited to see us. I make everything as positive as I can, and I don't let anyone tell me, 'You can't do this.' I truly think that makes a difference."