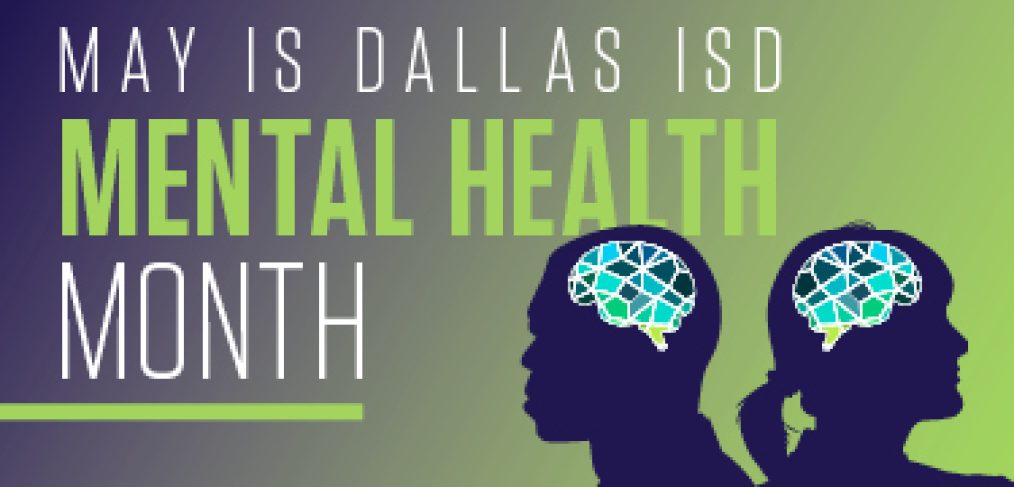 Kicking off Mental Health Awareness Month
Mental Health Awareness Month was first celebrated in 1949 to highlight the importance of maintaining overall health and well-being, and Dallas ISD's Mental Health Services and Human Capital Management are sharing resources for team members throughout May. 
This year's Dallas ISD theme, "More than enough," speaks to the importance of unique individuals accepting who they are despite their challenges in life.
Mental Health Services resources 
Mental Health Services invites all students, team members, and community members to join the district in fighting the stigma around mental health by posting the ways you celebrate your mental health on social media. Don't forget to use the hashtags #dallasisd and #morethanenough. You can also check the @TeamDallasISD Twitter page for daily mental health tips throughout the month.
Be on the lookout for Dallas ISD's Mental Health Awareness Month Recognition Activities, which include: 
May 3 — Begins "wear green" Wednesdays / Mental Health Services-guided mindful meditation

May 17 — Create a self-care collage

May 24 — Mindful exercise, yoga, and Mental Health Services' Walk-for-Mental Health

May 31 — "Mental Health Matters," a Mental Health Services roundtable talk
Another way you can participate in the celebration is by taking advantage of Mental Health Services' Mental Health Month Toolkit, where they have provided activities and resources to raise awareness about mental health. 
Feel free to click on the links, download the articles, videos, and more, and use them with your students, family members, or for yourself. Mental Health Services is encouraging every member of the Dallas ISD family to look within and embrace all of who you are. 
Dallas ISD's Employee Assistance Program
Dallas ISD is committed to the four pillars of its wellness program—health and wellness, mental health, social health, and financial health. Mental Health Awareness Month is a great time to focus attention on the resources available to district employees to ensure their mental and emotional well-being.
The May Mental Health Awareness Month campaign is focusing on the Employee Assistance Program (EAP), which is free for employees, 100 percent confidential, and available to all employees and their dependents. 
Sessions through the EAP are available by phone, virtual, and in person. Employees can also find tips, articles, self-assessments, and topical features focusing on specific EAP resources available through the EAP smart App.
To start on your wellness journey please visit dallasisd.lifeworks.com and follow these instructions:
Select 'Sign up' in the top right-hand corner of the page.

Alternatively, you can download the free LifeWorks mobile app from the Apple App Store or Google Play Store on your smartphone and enter the invitation code in the 'Sign up' section. 
If you have already registered, you can download the free LifeWorks mobile app from the Apple App Store or Google Play Store on your smartphone and press 'Log In'. You can also visit LifeWorks on one of the supported browsers (Firefox, Safari, Google Chrome, or Edge) and log in.
If you need additional support, reach out to EAP by calling 972-925-4000 and selecting option 3 for EAP. And remember, you are more than enough!