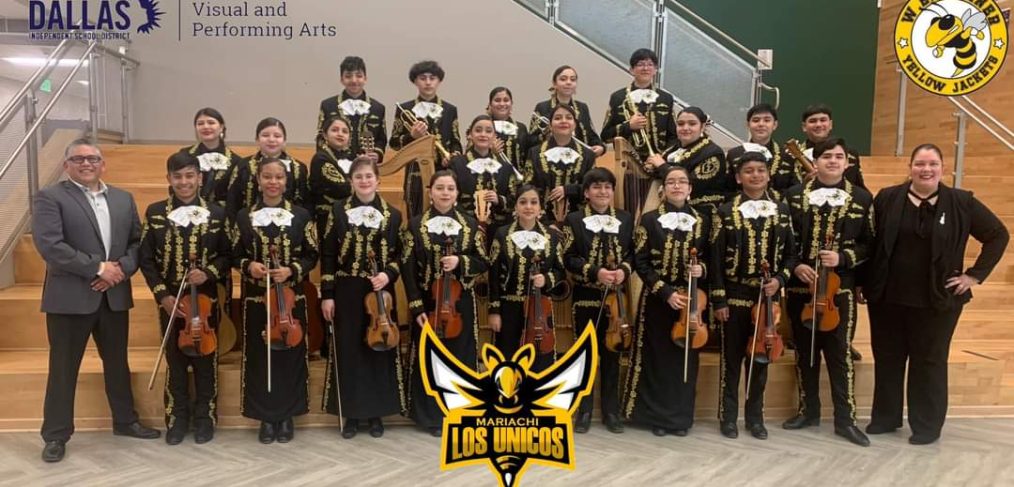 Instilling pride in culture through music
It was a full circle moment for Maria "Lupe" Vargas Garcia, when she first came to teach at W.E. Greiner Middle School Exploratory Arts Academy to be the orchestra director—she had attended the school as a student.
When she found instruments at the school that could potentially be used to start a mariachi student program, she approached her principal about the idea and received the green light to start an afterschool program. 
"I just figured there's a lot of Latinos in the school and thought this would catch on really well here," Garcia said. "I expected about 10 to 15 kids to show up. On the first day, about 30 kids showed up."
What started out as an afterschool program is now part of the academy at Greiner. Just last month, Mariachi Los Unicos performed at the Texas Association of Mariachi Educators State Festival and was selected for the Middle School Showcase group, bringing the school another award and accolades. 
"We have approximately 150 students because we have a cap, otherwise we'd have more," she said. "Many of the students who are in the orchestra program are also in the mariachi program." 
For Garcia, this journey of bringing a mariachi program into a school started long before she became a music director at Greiner. 
When she was a student at Moisés E. Molina High school, she was part of the Young Strings Program with the Dallas Symphony Orchestra. Through the program she received a scholarship for private lessons, and she credits the DSO and her parents' support for molding her violin playing through high school. 
While Molina didn't have a mariachi program at the time, her mom, a community activist, thought it would be a great idea for Molina to offer this to students. 
"My senior year, my mom was able to advocate for the mariachi program, and they started the program at Molina. I worked really hard as a music student as well as in my academics and sports, as I graduated fourth in my class." Garcia went on to graduate magna cum laude from The University of Texas at Arlington. She taught at Harry C. Withers Elementary and Nathan Adams Elementary School before coming to Greiner. 
Garcia has worked for the district 16 years, 14 of those at Greiner. She learned to play all the mariachi instruments with the help of her husband, who is part of a mariachi group with Garcia. 
"Being an orchestra director, I knew how to play a lot of the band and orchestra instruments already, but now I can now play or have an understanding of all the mariachi instruments—about eight instruments or so," she said.
There's a story about how Mariachi Los Unicos got their name. In choosing the name, Garcia wanted one that represented the school. 
"Our mascot is the yellow jacket, but could not find a name that represented that, and then I thought of the name los únicos (which translates to the only ones or unique), because we were the only middle school in Dallas ISD at that time that offered mariachi. We were the first ones, so that is a unique part of our story," Garcia said.
Garcia says part of her No. 1 rule is that all of her students are required to not only sing, but to play an instrument in the mariachi group.
"In our program, violin and guitar are the most popular, but we give students the option after they've been educated as to what is needed in the mariachi band, and a lot of them choose their instruments," she said.
Garcia is thankful not only to have a supportive principal and school, and a very knowledgeable and seasoned co-director, but to also have the support of the Greiner parents and community as well. 
"Many of the parents support the program through the booster club. They run errands, pick up uniforms from the dry cleaners, raise money for uniforms and food, and make themselves available to help." 
Garcia has also received a lot of positive feedback from her colleagues at Greiner and from other directors.
"They say that they really appreciate the program because the students help put Greiner on the map, because these kids are doing such a great job representing us as they perform at the many events. They also need to be in good academic standing and have good discipline. In turn, this helps the students grow as a person," she said.
Another thing that Garcia has heard parents express is their appreciation of culture through music. 
"I've heard comments like a parent who told me she heard her son singing her favorite song El Rey, and that's something that makes the family feel proud and honored," she added.  
But beyond that, Garcia believes that music defines culture and identity.
"It's the basis of our civilization, and what better than to not just listen to it, but to be able to actually produce it and play it?" she said. "That's exciting for them and for me to be able to instill this culture in them. Music can play an important role in a child's development."
One of the favorite things about being an orchestra and mariachi director for Garcia is seeing the students blossom. She said she loves to see their growth when they are up on stage performing for their parents and the community and know she had a part in it. 
Mariachi Los Unicos is busy at events throughout the year, in events such as Hispanic Heritage, Dallas ISD celebrations,DeSoto Teen Expo, the convention of police department chiefs, state fair performances, and others. 
While the group volunteers its time, donations to the booster club help support these community performances. 
One of the greatest rewards of Garcia's work is seeing her former students go on to pursue careers in music like the student who graduated from Texas State University with a performance degree in violin and is now auditioning to get into the top mariachi group in California. Another former student became a conductor of a symphony orchestra, and yet another student is in the New York Philharmonic.
"I've run into several former students who are now playing mariachi professionally in Oak Cliff and throughout the Dallas area. I'm just very proud to see them out in the community performing and doing what they love."
To catch Mariachi Los Unicos in their next performance, visit their social media page at: https://www.facebook.com/Mariachi-Los-Unicos.