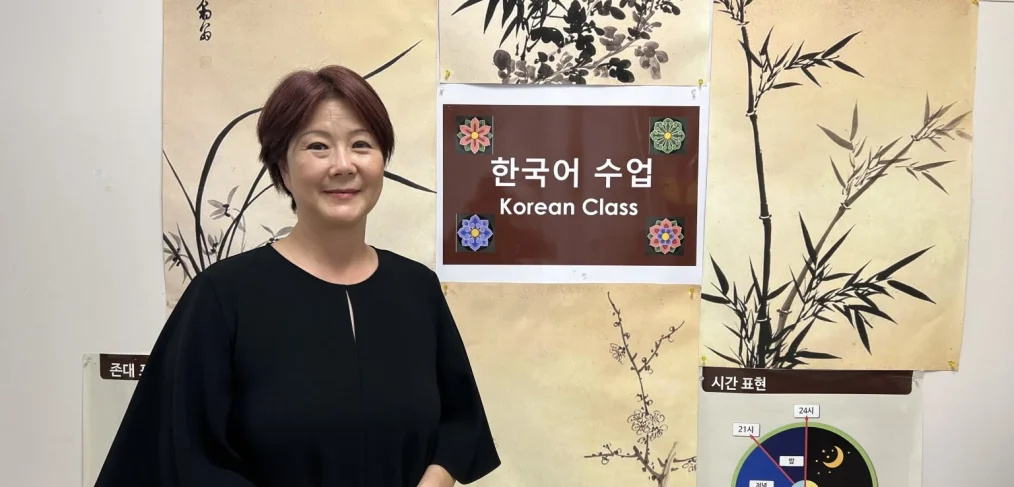 AAPI Heritage Month Spotlight: Teacher brings Korean culture to life for students at Skyline
Skyline teacher Sophie Nah knows that learning a language not based on the English alphabet can be a challenge, so she makes her Korean language classes fun. Perhaps that is why Nah, who teaches four levels of classes, for grades nine through 12, finds students coming back every year for more.
Her students don't just learn to speak conversational Korean. They also practice arts and crafts and make pottery, kites, ethnic masks, fans, and other artifacts. And they are introduced to Korean foods – all the while learning about the country and its traditions. "I give them rewards, like Korean snacks or different cultural activities, to make it as enjoyable as possible," she said.
Sometimes Nah brings guests to her classes, to acquaint students with different aspects of the culture. For example, "I had a tae kwon do instructor come and teach the students ways to defend themselves in a physical situation. And last year we had a visitor who brought a jikji, which was the first system in the world for mass printing. The Gutenberg Bible is known as the first book in the world, but the Korean jikji is the first mass printing system in history. A jikji ambassador came and brought printing samples, to teach students how to do traditional calligraphy. She brought the brushes and special paper to demonstrate.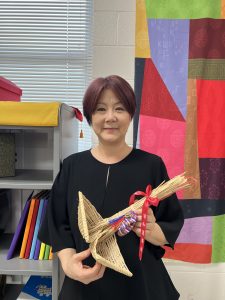 More than the language
"It's definitely about more than just learning the language and reading comprehension," Nah says. "Language is maybe 60 percent of it, and the other 40% is fun activities" to teach the students about the culture. "We have fun games and activities because learning a non-alphabet-based language can be very hard."
The Korean language system, called Hangul, is made up of 14 consonants and 10 vowels. It is the official writing system in South Korea and North Korea and is used by the Korean diaspora across the world. Some non-natives struggle to master it because it's really different from the English alphabet.
"It can be especially hard for those who have never been exposed to cross-cultural experiences. Those who already have bilingual exposure at home (for example, parents who speak Spanish) find it much easier to learn another language than those who have never had that experience. It takes longer and is more difficult for those who are not exposed to other languages."
This is Nah's fifth year in the district, making her the longest-serving teacher in the relatively new Korean language program. Born and raised in Seoul, South Korea, she came to the U.S. as an adult a little over 30 years ago, after growing up in a family of educators.
"My father was a professor, and so are a lot of my family members. My sister is a professor, as was my late brother. My husband's family members were teachers and professors, and as a youth pastor, my husband also taught. It really runs in the family. And my daughter, Phoebe, is a music teacher at Preston Hollow Elementary School in Dallas ISD."
Nah first settled in the Los Angeles area, where she worked for the California Employment Development Department, conducting workshops for job seekers who needed to be retrained to join the workforce. "It was job coaching in a classroom setting. I traveled to classrooms in different communities for about 10 years. After I relocated to Carrollton, Texas, I worked as an education center director in Plano, hiring tutors to make sure students achieved their academic goals."
She learned about the Korean language teaching job through Dallas ISD's alternative certification program. "It was something I knew I could do well as a native Korean speaker." She is the only Korean teacher at Skyline. And because there are very few Asians in the district, she says, her students are 100% non-Korean-heritage. But they are eager to learn. Skyline's Korean language program is growing and more students are coming back for the next level, Nah says.
Vanessa M., a sophomore in her second-level class, is one of those students. "The class is very comforting and welcoming. I feel like I can be myself when I am in this class. The subject itself is very interesting to me, and Ms. Nah makes it easier and so much more fun to learn. I am honored to be a part of this class."
Sparking interest in another culture
The students are really motivated and enjoy the classes, Nah said. "And that is something that motivates me to go on. Also, some students are very much interested in Korea. They want to visit there, and they are applying for different opportunities to do so."
One such opportunity is the Hanbok photo contest, where students dressed in traditional Korean clothing that Nah provided and took photos at landmarks around Dallas to enter a photo contest in Korea. If they are selected, they will have their photos featured in the Korean news.
In another project, some of Nah's students are participating in a joint class with a school in South Korea. Through a program that matches schools in Korea and the United States, they are reading a story together and sharing reflections, using Padlet as the sharing platform. "We will read O. Henry's 'After Twenty Years' and discuss friendship – what is a good friendship, what is a bad friendship – with Korean juniors and seniors. It is a remarkable thing that we are actually connected with students in Korea."
"My students are interested in visiting Korea and applying globally for different things, so they are thinking a lot more internationally," Nah said. "They have better exposure to expand their lives and pursue different opportunities through photos or video contests and the like. They are enriching and expanding their lives, rather than limiting themselves to what is local."